News
Featured Article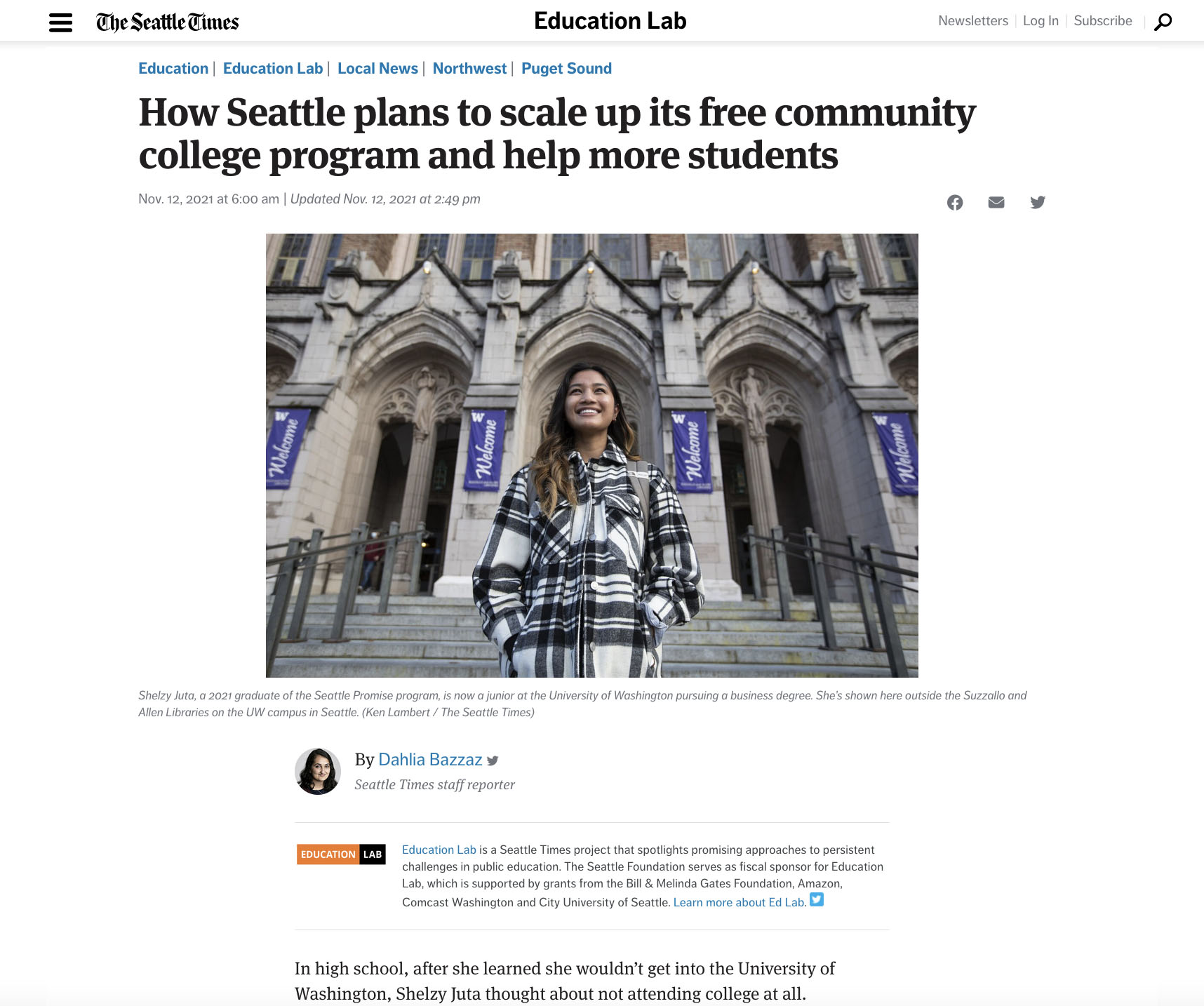 2022 Articles
Connecting Promise Programs to Community College Transfer
April 8, 2022 · Inside Higher Education
By Tania LaViolet
"One emerging model may provide a road map for other institutions. It's the Path to UW—a transfer partnership between the Seattle Colleges Seattle Promise program and the University of Washington Seattle campus. We think it will inspire civic leaders and higher education leaders."
---
Fill out your FAFSA - free money for college awaits
March 28, 2022 · Seattle Times
By Jenn Smith
"Sarah Bishop, Seattle Promise's assistant director, said students and families are more likely to complete the paperwork when they have many opportunities to get support throughout the college and financial aid application process."
---
College Promise Coalition - Our Work in Action
Jan. 11, 2022 · College Promise Coalition
Shelzy shares about the supports she's received through Seattle Promise that have enabled her to succeed at the University of Washington on the path to her college degree.
---
Continuing education can unlock family-wage careers
Jan. 23, 2022 · 
By Jeff Vincent
"This is a life-changing opportunity for thousands of our young adults who choose to seek a good job after high school graduation. By inspiring and assisting more of our high school graduates to take advantage of continuing education, we will improve their prospects for a productive adulthood. The entire community will benefit."
---
2021 Articles
Mayor, Amazon, Seattle Colleges announce investments in new B.S. programs in computer science
Dec. 13, 2021
"During a news conference announcing the new computer science initiative and grants, North Seattle computer science student Riko Niyomwungere said he didn't have the best grades while at Ingraham High School. But he had counselors and teachers who rallied to help him pursue college through the city's Seattle Promise, a program that lets Seattle high school graduates attend two years of community college for free. At North Seattle College, he said, he's found passions for robotics and automation and interests in working in databases and cybersecurity."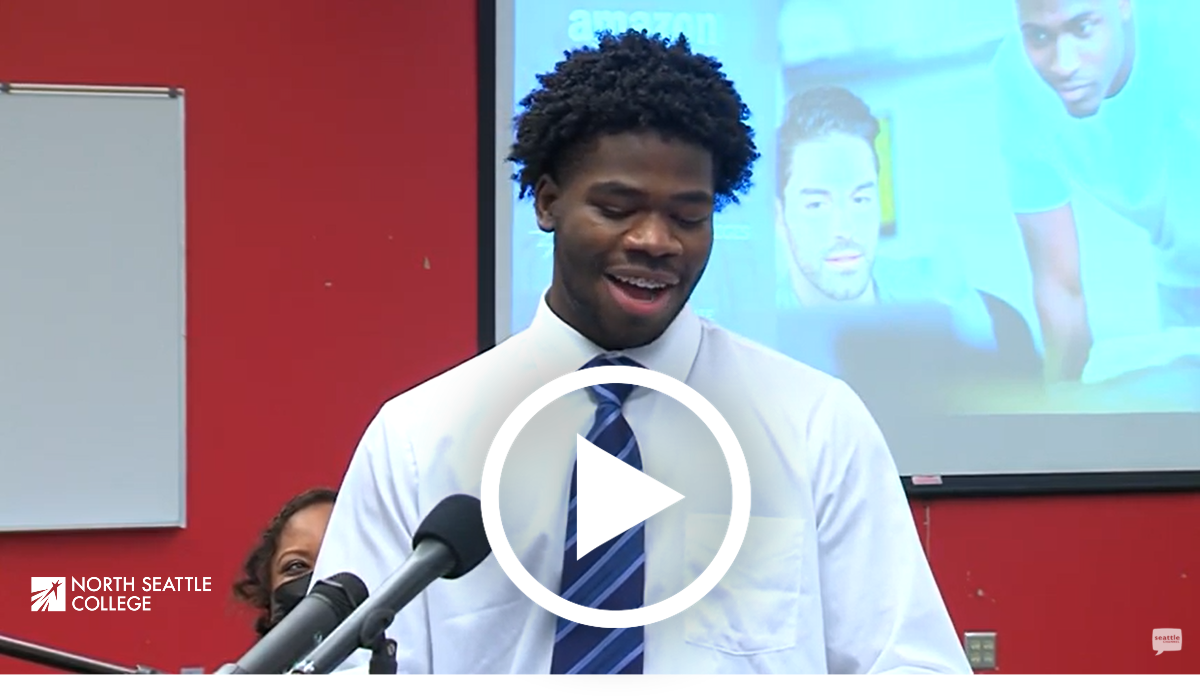 ---
New Partnership Makes College More Attainable For Graduates of Seattle Public Schools
Dec. 7 · Seattle Medium
By Aaron Allen
"Combining Seattle Promise and WSOS will ensure Seattle students have the support they need to pursue the high-demand jobs in our region," said Kimber Connors, WSOS Executive Director. 
---
Washington's Opportunity Scholarship program celebrates 6,196 grads, and counting
Dec. 4 · Seattle Times
By Jenn Smith
"Three years ago, Albany Garcia moved to the United States from Venezuela, enrolled in Seattle's Ingraham High School, and graduated in eight months. She first became a Seattle Promise scholar, able to go to community college tuition-free. 'It was the best news I ever received,' she said... To help sustain her career goals, she was encouraged by Camara Harris-Weaver — then a Seattle Promise retention specialist for North Seattle College, now a WSOS career and technical scholarship adviser — to apply for a Washington State Opportunity Scholarship. Garcia got it."
---
Success stories: Supporting more WA students to succeed in education after high school
Dec. 3 · Seattle Times Education Lab
Sponsored content by Partnership for Learning
---
Seattle's free community college program grows in size and impact
Nov. 22, 2021 · The Urbanist
By Natalie Bicknell Argerious
---
How Seattle plans to scale up its free community college program and help more students
Nov. 12, 2021 · Seattle Times Education Lab 
By Dahlia Bazzaz
---
'I have a future': how Biden's free community college plan could transform education
July 19, 2021  · The Guardian  | US Education
By Hallie Golden
---
Seattle Colleges launch $50-million racial equity campaign
June 2021
Crosscut Sponsored Content
"I thought, if all these people are willing to care for me to get this far, why not at least try college?" says Niyomwungere, a Zimbabwe-born, Seattle-raised 19-year-old now studying at North Seattle College. "The last thing I want is to someday be on my deathbed and wonder what would have happened if I had only taken the chance."
---
Seattle's free community college program could serve as national model
May 4, 2021 · NPR WBUR  | Here and Now 
Here & Now's Tonya Mosley speaks with Seattle Colleges Chancellor Shouan Pan about the impact of Seattle Promise, a program that provides city high school students with two years of free community college education in the city.
Seattle's tuition-free community college program sees record application numbers despite pandemic
---
Seattle's tuition-free community college program sees record application numbers despite pandemic
April 2, 2021 · Seattle Times Education Lab 
By Elise Takahama
---
Seattle Promise and Seattle Colleges' HBCU partnerships
January 29, 2021 · Converge Media Morning Update
Seattle Central College Associate Dean of STEM & Business, Dr. Chelsia Berry and Seattle Department of Education and Early Learning, Director Director Dwane Chappelle share the upcoming Seattle Promise application deadline and Seattle Colleges' transfer agreements with Historically Black Colleges and Universities (HBCU).