News
---
With Nearly A 100 Percent College Application Rate, Garfield Is Setting A New Standard For Outcomes And Expectations
Feb. 8, 2023 · The Seattle Medium
By Aaron Allen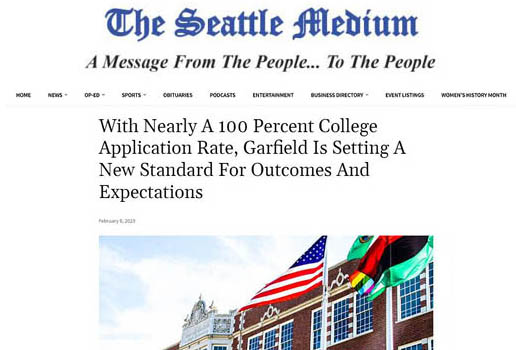 ---
Equity Enhanced Pandemic Response Shows Promise for Scholars
Jan. 13, 2023 · Seattle Department of Education and Early Learning
By Sage Leibenson
"Seattle Promise has been overwhelmingly successful in its first four years, surpassing enrollment projections and increasing college persistence despite the unforeseen challenges of a global pandemic. The equity enhancements are targeting low-income and BIPOC students who need these investments to recover, re-enter the program, complete their degrees, and find successful careers."
---
2022 Articles
Connecting Promise Programs to Community College Transfer
April 8, 2022 · Inside Higher Education
By Tania LaViolet
"One emerging model may provide a road map for other institutions. It's the Path to UW—a transfer partnership between the Seattle Colleges Seattle Promise program and the University of Washington Seattle campus. We think it will inspire civic leaders and higher education leaders."
---
Fill out your FAFSA - free money for college awaits
March 28, 2022 · Seattle Times
By Jenn Smith
"Sarah Bishop, Seattle Promise's assistant director, said students and families are more likely to complete the paperwork when they have many opportunities to get support throughout the college and financial aid application process."
---
College Promise Coalition - Our Work in Action
Jan. 11, 2022 · College Promise Coalition
Shelzy shares about the supports she's received through Seattle Promise that have enabled her to succeed at the University of Washington on the path to her college degree.
---
Continuing education can unlock family-wage careers
Jan. 23, 2022 · 
By Jeff Vincent
"This is a life-changing opportunity for thousands of our young adults who choose to seek a good job after high school graduation. By inspiring and assisting more of our high school graduates to take advantage of continuing education, we will improve their prospects for a productive adulthood. The entire community will benefit."
---