Academic Catalog
Catalogs in Print
The 2019 - 2021 College Catalog is available for downloading via the PDF files below. The catalog has been subdivided into smaller PDFs for your convenience. Select one or more to download and print, or select individual pages within a PDF.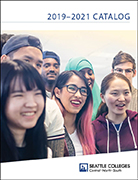 Changes in courses and programs that develop after the catalog is printed are submitted to the district website. Use the search option at the top of the page to view the most up-to-date information for a class or program.
---
Please use our feedback form to send us comments, recommendations, or corrections.