Seattle Promise Facts and Figures
The first three years (2018, 2019, 2020) of Seattle Promise were a period of transition and growth. Today, the program reflects open access to all Seattle Public High School graduates and a holistic design that includes tuition-assistance, need-based funding for college costs beyond tuition, and individual student support from high school through the first two years of college. More importantly, it is showing positive outcomes in student recruitment, retention, and completion. As the program matures, it is anticipated these positive outcomes will continue to grow.
*Published March 3, 2021
Student Profile
Seattle Promise is serving a substantial representation of low-income and historically underserved students.
With more than 60 percent students of color, Promise scholars continue to be more diverse than the high schools from which they graduated. First generation college students account for more than 35 percent of the class, and approximately two-thirds are from families making less than $75K/year.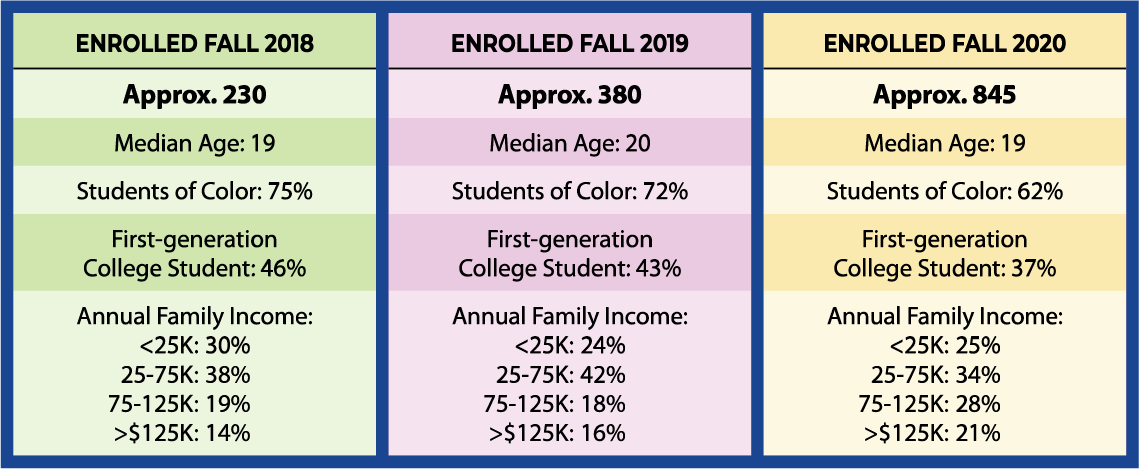 Student Recruitment and Enrollment
Students are applying and enrolling in increasingly large numbers, surpassing projections.
Approximately half of all eligible Seattle Public High Schools graduates have applied for Seattle Promise over the last three years with 20 percent enrolling in Fall 2020.
In 2018 and 2019 graduates from six target Seattle Public High Schools were eligible to apply regardless of income, grade point average (GPA), ability or country of birth. In 2020 graduates from all 17 Seattle Public High Schools were eligible to apply. Students are supported in high school with Seattle Promise outreach specialists assisting with application, admissions to college, and completing federal and state financial aid (FAFSA/WASFA). Promise scholars attend two events (Readiness Academy and Summer Bridge) to prepare for college before starting classes Fall Quarter.



Student Retention and Satisfaction
Students are satisfied and staying in college.
Levels of retention and student satisfaction among Seattle Promise students are high: 85 percent continued from Fall 2018 to Winter 2019, and 71 percent continued from Fall 2018 to Spring 2019. This compares to a 72 percent Fall to Winter retention rate and a 58 percent retention rate from Fall to Spring for all Seattle Colleges' students in the same period.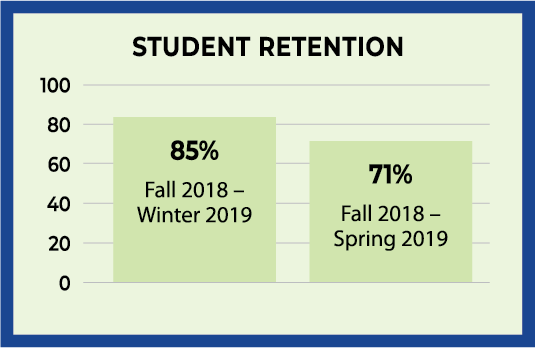 Additionally, 93 percent of students responded to a student survey as "very satisfied" or "satisfied" with the individual support and guidance they are receiving from their student success specialists.

Student Completion
Students are completing at a rate two times higher than the national community college two-year average.
Although the world-wide pandemic has delayed some students' progress, Seattle Promise reports a 29 percent two-year completion rate (as of Aug. 2020) in contrast to the 13 percent national two-year average for community colleges.
In comparison to the larger Seattle Colleges' student body, although not equivalent, 51 percent of Seattle Colleges' students (first time to college, full-time students, and including those who transferred without a degree) completed in four years. As the program continues, Seattle Promise will also measure four-year completion rates.
*Typically, both nationally and within Seattle Colleges, completion rates of community college students—the number of students who complete a degree—are measured over a period of four years. As the program is in its early years, Seattle Promise is currently only able to measure a completion rate in a two-year term and does not include students who transfer to a four-year college without a degree.
Sources