ctcLink for Students

Note to new students starting each quarter: please refer to the web page titled ctcLink for Prospective and New Students.
 
About ctcLink
ctcLink provides you with a centralized system to conduct your college business. This system combines student information in a single data set to allow more self-service options and to improve the experience, especially if you are looking to transfer to or from other community and technical colleges within the state.
Your ctcLink account gives you access to the following applications:
Manage Classes: register for, add, and drop classes
Academic Records: view grades and past classes and download unofficial transcripts
Profile: view or update personal information, including your contact information
Financial Account: pay tuition and fees and check your account balance
Financial Aid: manage and accept financial aid awards and applications
Report Time as a Student Employee
Apply for Graduation
Your ctcLink ID and password are also the credentials used to access your Canvas learning account (but note that Canvas is a separate application).
For step-by-step guides on using and navigating ctcLink, visit the ctcLink Resources for Students web page. Some important notifications and various tips are posted below.
 
Still Have Questions?
If you still have questions, refer to our Frequently Asked Questions (FAQs) for Students web page.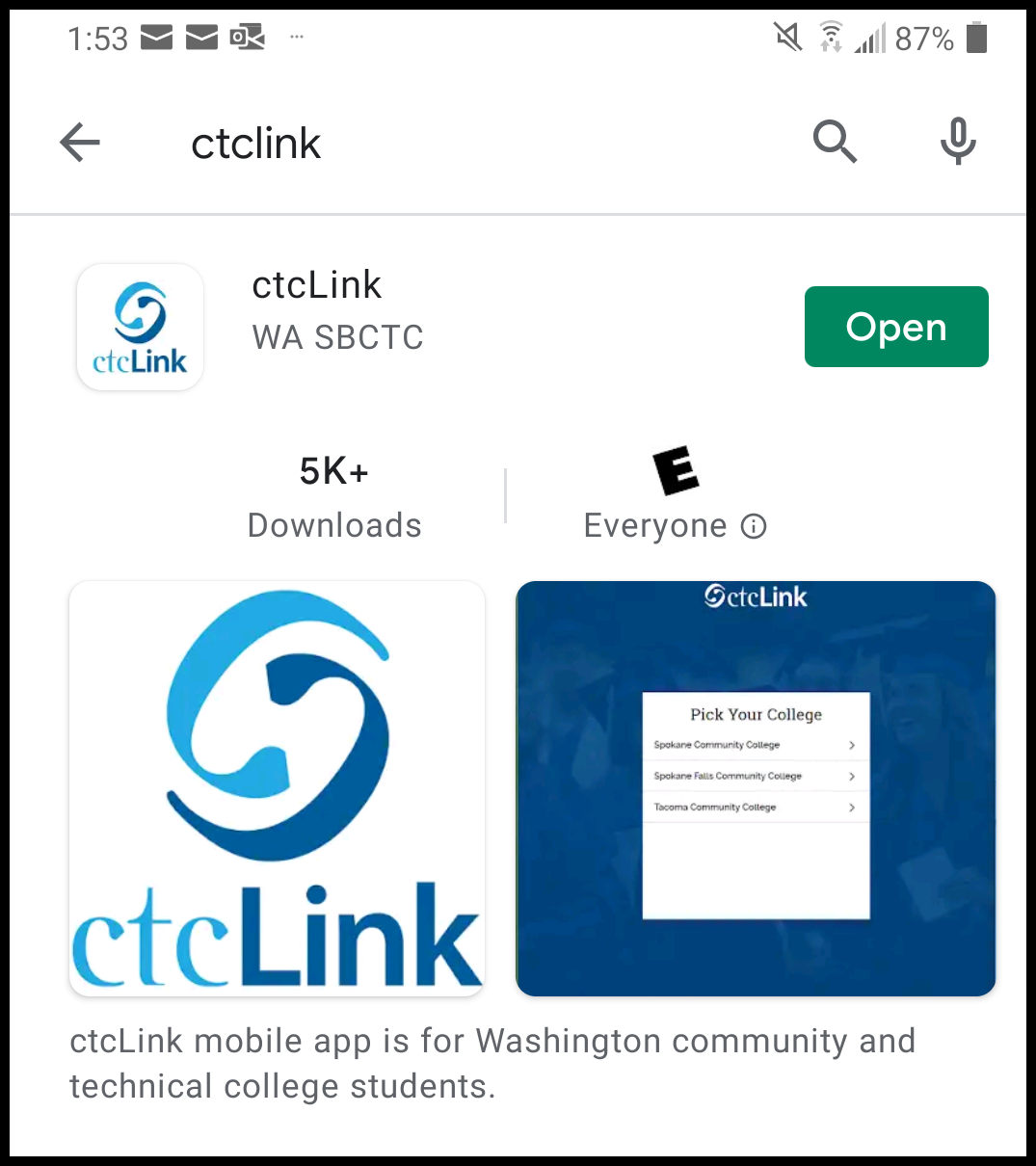 A ctcLink Mobile App Is Available 

One exciting feature of ctcLink is an app you can use on your mobile devices. Search the app store (iPhone) or play store (Android) on your mobile device for "ctcLink" to download and install this free app today. Note: You must activate your ctcLink account before using the mobile app or its web-based version. Please see the ctcLink Resources for Students web page for account activation instructions and for more information about the app. After you activate your ctcLink account, you'll be able to access ctcLink directly through your mobile device using the app.
 
Planned Service Disruptions
There are occasional times and dates when ctcLink will be offline and unavailable for use. Planned ctcLink outages are scheduled by the Washington State Board for Community and Technical Colleges system office in Olympia and impact all colleges using ctcLink. These outages allow for software updates and upgrades to be made. 
Learn more at the State Board's ctcLink Support website. Please plan ahead for these service interruptions as you consider your activities.
Please note, these outages WILL NOT affect your access to course materials on Canvas or services and appointments in Starfish. Canvas and Starfish are separate systems. However, if you need to reset your Canvas password, that is done via ctcLink (Canvas uses your ctcLink ID and password).
 
Registration Tips
Refer to the class schedule information for each college: North | Central | South. We've developed a list of important tips that will help you get the most out of ctcLink when registering for classes. 
Do I really need a permission number for every class? (No, not for every class.)
Make sure to select the appropriate academic term.
You must be logged in to enroll in a class or add a class to your shopping cart or planner.
Remember to include Common Course Numbered (CCN) classes in your search.
Enroll in classes that meet your degree requirements.
Your search layout depends on the size of your screen.
Learn more at the Registration Tips for ctcLink web page.
Review the full help guide: How to Browse and Search for Classes.
 
Tips for Known Issues
Some students are encountering issues in ctcLink. Below are some solutions you can try.
Q: I'm unable to log into ctcLink after updating my password and activating multi-factor authentication, do you have some suggestions?
A: Try clearing the history and cache of your primary browser or log out of your browser and close it, then reopen it and log it. Also try logging in to ctcLink with your new password in a different browser.
 
When Requesting an Unofficial Transcript
Once you view your unofficial transcript in ctcLink, it may seem like it doesn't update with new grades or information the next time you want to view it. You need to submit a new request to see updated transcript information. You also have the option to view all unofficial transcript reports you have requested in the past. Refer to Step 9 in the help guide View/Print Your Unofficial Transcript, which is linked on the ctcLink Resources for Students web page.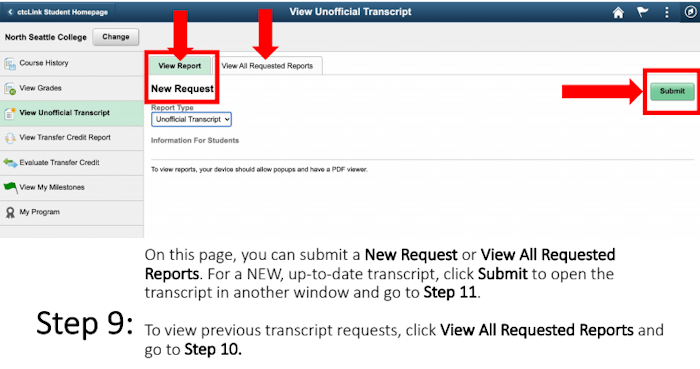 ctcLink Resources for Students
The video below offers a basic overview of the ctcLink Student Homepage where you can access and update your student information, including viewing Financial Aid awards, updating contact information, paying tuition, registering for classes, and many other tasks.
Information Still Available to Students in Legacy Systems

Unofficial Transcript
You can still view your unofficial transcript in our legacy systems using your old SID and PIN.
Note: If you are not a currently enrolled student and only need to retrieve an unofficial student transcript, you do not need to activate your ctcLink account before accessing your unofficial transcript.
NORTH: wts.seattlecolleges.edu/seanor/waci002.html
CENTRAL: wts.seattlecolleges.edu/seacen/waci002.html
SOUTH: wts.seattlecolleges.edu/seasou/waci002.html
2020-2021 Financial Aid Information
You can still access your financial aid information for Fall 2020 and Winter and Spring 2021 through your college's Financial Aid Portal.
NORTH: northseattle.edu/financial-aid
CENTRAL: seattlecentral.edu/enrollment-and-funding/financial-aid-and-funding/financial-aid/financial-aid-portal
SOUTH: southseattle.edu/financial-aid/financial-aid-portal

Updates
Following is an archive of update messages sent to students about the transition to ctcLink from our current systems. It is intended for reference and review.
What are the benefits of ctcLink to me as a student?
Our former system used outdated technology that didn't offer the integrated online services you need. ctcLink offers many services online in a mobile-friendly way. ctcLink will help you better manage your entire college experience. Using the new online student center, can do the following 24/7 from your mobile device, laptop, or home computer:
View or update your student information and manage personal contact info.
Register for classes, add, and drop.
Pay tuition and fees and handle financial aid processes.
View grades, track academic goals, and apply for graduation.
Register for specific courses that apply to remaining program requirements.
With your ctcLink ID, you have one login to access your information across Seattle Colleges as well as at all Washington community and technical colleges. If you transfer in from or out to another community or technical college in Washington state, you will be able to use that same ID to access your information, which will follow you.
Refer to the document below for more information: