Understanding Tuition and Fees in ctcLink
ctcLink displays more information to students about tuition and fees than Seattle Colleges' previous system. One big change is that tuition is now shown split out into the Operating, Building, and S&A (Services and Activities) components. 
Most classes charge operating, building, and S&A fees as tuition. 
Operating fee: A tuition fee that supports school operations.
Building fee: A tuition fee that supports infrastructure and innovation. This tuition fee is charged for in-person and online classes.
S&A fee: A tuition services and activity fee used to cover student activities and programs.
Seattle Colleges follow the State Board for Community and Technical Colleges (SBCTC) tuition and fees policies, which generally describe the amounts that are charged for different types of classes and students. More information is available at the SBCTC tuition and fees web page.
Resident Student Tuition
Previously, resident students may have only seen a charge of $565.20 for a 5-credit classes. Now in ctcLink, resident students will see separate charges for:
Resident Operating Fee - $446.20
Resident Building Fee - $60.90
Resident S&A Fee - $58.10
The total charged to the student remains $565.20.
Below is an example of a typical set of charges for a resident student in one class.

Non-Resident Student Tuition
Non-Resident Students will see additional charges as part of SBCTC policy. You can see full details online.
NonResident Operating Fee: Non-resident students may see both an 'Operating Fee' and an 'Operating Fee Diff'. The 'Diff' fee is the differential between the resident and non-resident rate. 
NonResident Building Fee: Non-resident students will see two 'NonResident Building' charges. One is the charge at the Resident rate, and the other is the non-resident differential. 
Below is an example of a typical Non-Resident Student Account screen: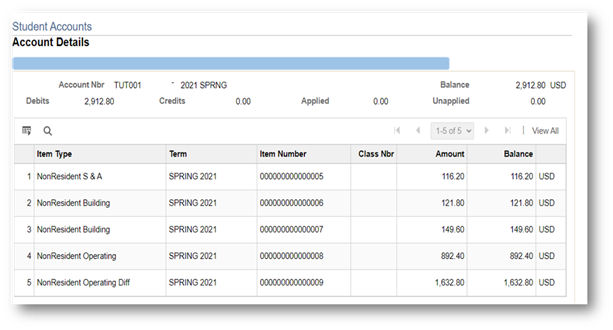 HB 1795 disclosure
RCW 28B.15.0681(5)(a) and (b) require that institutions of higher education provide certain information to all undergraduate resident students. This is also known as the HB 1795 disclosure.
The sources of all institutional revenue received during the prior academic or fiscal year, including but not limited to state, federal, local, and private sources;
The uses of tuition revenue collected during the prior academic or fiscal year by program category as determined by the office of financial management;