About
ctcLink is the name for the PeopleSoft ERP project for the Washington Community and Technical College System. It is a major statewide project to upgrade the information systems at all 34 community and technical colleges. PeopleSoft is an Enterprise Resource Planning (ERP) system that integrates internal and external management of information across an entire organization (in our case, across Seattle Colleges and the state's community and technical college system).
In ctcLink implementation, conversion and validation refers to the process of loading data from the existing legacy systems to PeopleSoft. The conversion process involves identifying the data that must be brought to the new system, mapping the data to PeopleSoft fields, translating old codes into PeopleSoft codes, and finally loading the clean, compatible data into PeopleSoft.
The ctcLink project is led by SBCTC's project team, and they work with each district to bring them into the system. ctcLink is also how SBCTC has purchased and configured Oracle's PeopleSoft Campus Solutions, Finance, and Human Capital Management pillars to work together. 
Refer to the menu for additional information about ctclink including frequently asked questions (FAQ), how ctcLink will integrate with other existing information systems we use (like Canvas, Azorus, Starfish, etc.), and other informational resources.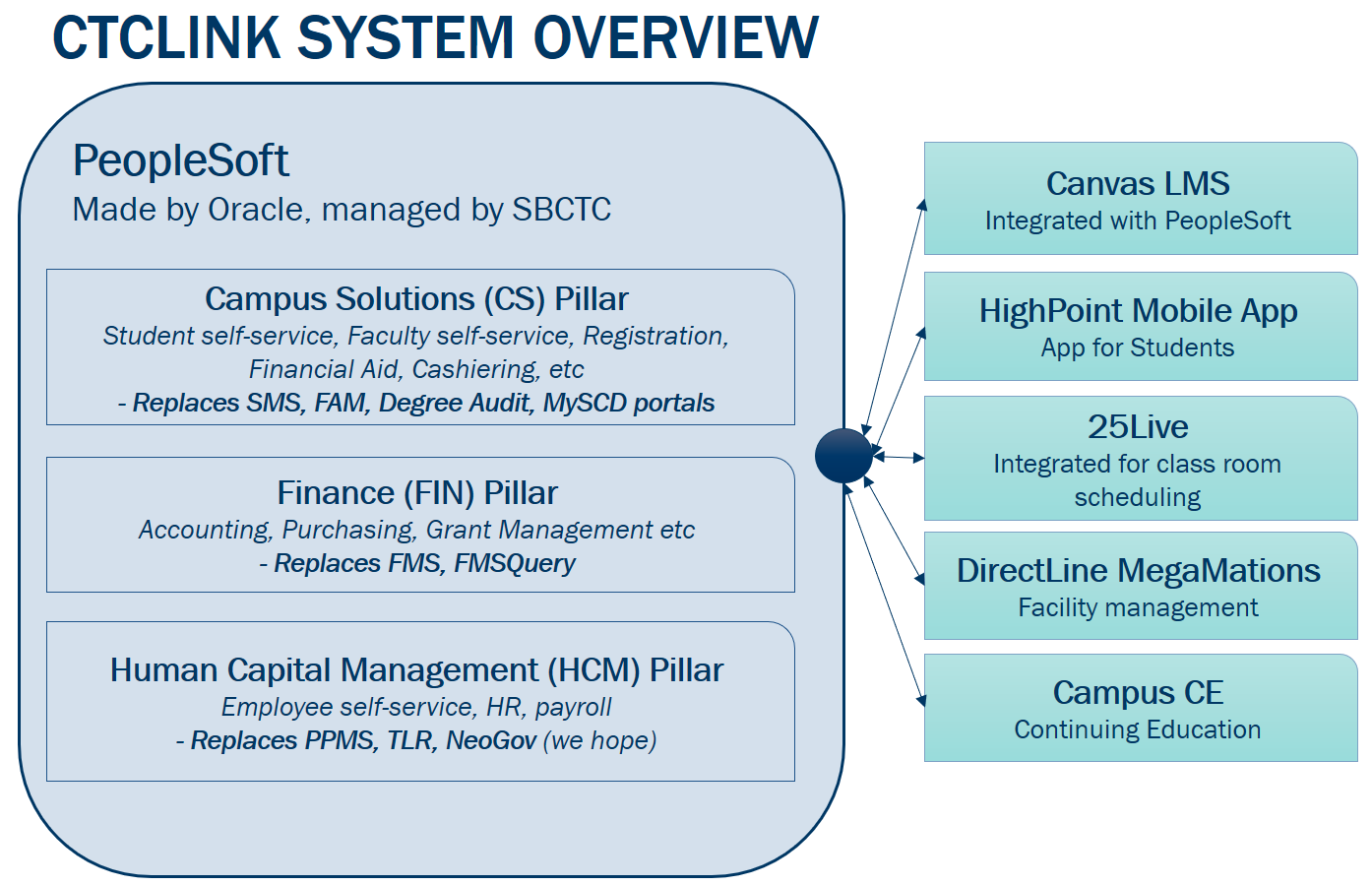 Progress So Far
Three pilot colleges (Spokane Community College, Spokane Falls Community College, and Tacoma Community College) went live with ctcLink (Oracle PeopleSoft) in August 2015. After a rocky start, ctcLink has gone through multiple rounds of improvement and upgrade. In 2019, SBCTC upgraded from PeopleSoft 9.0 to 9.2, and the pilot colleges went through a significant upgrade and retraining project.
Currently, ctcLink is in use at:
Spokane Community College (FirstLink)
Spokane Falls Community College (FirstLink)
Tacoma Community College (FirstLink)
Clark College (Deployment 2)
Lower Columbia College (Deployment 3A)
Olympic College (Deployment 3A)
Cascadia College (Deployment 3B)
Peninsula College (Deployment 3B)
Pierce Colleges - Fort Steilacoom and Puyallup (Deployment 3B)
 
Learn more at ctcLink Project news and updates.
Governance structure
ctcLink is a big, statewide system with many global configuration choices that have been made for all college users. There is a formal governance process to manage how the global configuration is set up and improved over time.
Seattle Colleges ctcLink Team
The ctcLink project is led by the State Board for Community and Technical Colleges. Seattle Colleges has a ctcLink project team and a local steering committee to guide our implementation.
---
Please use our feedback form to send us comments, recommendations, or corrections.