Faculty and Staff
All Seattle Colleges faculty and staff are invited to participate in the ceremony either as members of the procession wearing academic regalia or as volunteers helping to direct students and guests throughout the day. 
Click on any topic for more information.
2:30 p.m. Chancellor's Reception* (refer to the Reception accordion box for details)
4 p.m. Participants in the Processional Relocate to the Robing Room (Diamond Club) 
4:45 p.m. Line Up for Processional
5 p.m. Ceremony begins with Processional
7:15 Ceremony Concludes
*RSVP to attend.
Chancellor's Reception
Faculty and staff are invited to the Chancellor's Reception from 2:30 to 4:30 p.m. in the First Base Terrace Club at T-Mobile Park.
The reception is hosted by the Seattle Colleges Foundation.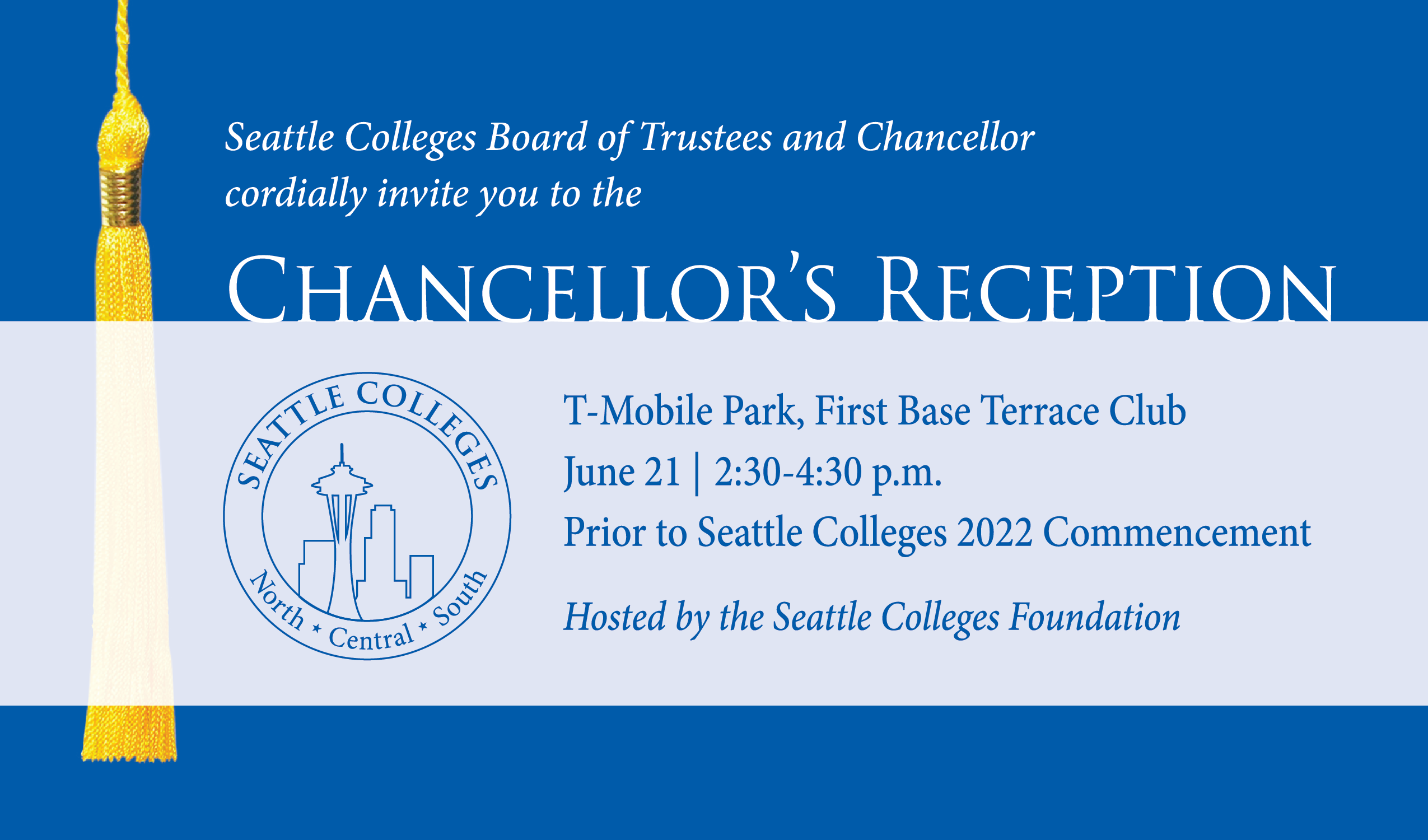 Faculty and staff should plan to change into their regalia before the ceremony at approximately 4 p.m. in the Diamond Club, the designated robing room and preparation space.
Faculty and staff are welcome to bring their own gowns and regalia to participate in the processional.
Any rental gowns and regalia items that were ordered by May 20 will be available prior to the ceremony in the Diamond Club. Once the ceremony is over, simply return the items to the Diamond Club.
Seating
Seating for guests is available on the top row of the concourse.
A designated reduced distraction/quiet zone for guests is located on the press level.
Ceremony
Captions will be displayed on the right-field and third-base scoreboards.
ASL interpreters will be displayed on the MarinersVision Screen.
Parking
Accessible parking in T-Mobile Park parking garage is available with a state-issued disability permit.
The sky bridge on the fifth floor connects the garage to T-Mobile Park.
Other
All restrooms are ADA accessible.
Service animals are welcome at T-Mobile Park.
Transportation/Parking
The Seattle Mariners transportation page shows the various ways to get to and places to park at or near T-Mobile Park. The fee to park at T-Mobile Park Garage is $10 on Commencement Day.
Facilities
T-Mobile Park requires everyone to go through security and metal detectors before entering the stadium.
Please read the Mariner's Gate & Bag Policy FAQ for a full list of prohibited items.
Refreshments will be available for purchase at park concession stands. Note, vendors will only accept credit, no cash transactions.
Gender-neutral restrooms are available.
The nursing lounge is located at Section 128 near guest services.
Those unable to attend can watch a livestream of the June 21 ceremony starting at 5 p.m. PDT at www.scctv.net.