Starfish for Students
Starfish is an essential tool for all Seattle Colleges students. They use it to find their success networks--the folks on campus who support them, connect with their advisors and other folks, and keep track of tasks and reminders. 
Students can use Starfish to:
Schedule advising appointments and find information about drop-in advising hours.
Make appointments with tutors and find information about drop-in tutoring services.
Schedule other kinds of appointments with campus services.
Access information about student support services on campus.
View their current instructors and courses.
Find digital to-do items and checklists assigned by their advisors.
View all messages sent from advisors, instructors, and other services through Starfish.
Request follow-up support from campus services.
Create individualized education plans in Starfish Degree Planner.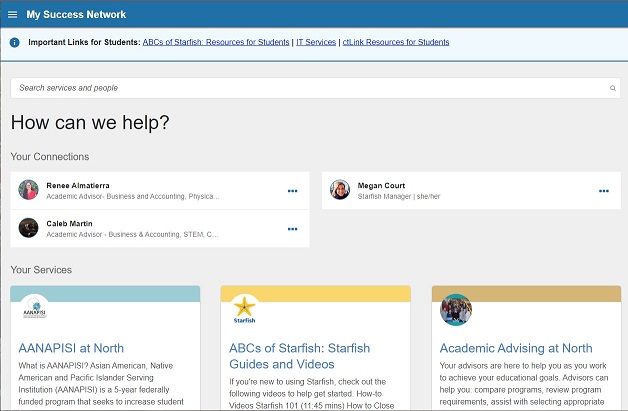 Video: Starfish 101 (11:44 mins) 
Mins 0-4 are about MySeattleColleges and navigating Student webpage.
Mins 4-11 are about logging in and navigating Starfish.
Getting Started with Starfish
The first step is logging in. Students use their MySeattleColleges username and password to access Starfish, and most technology tools used by Seattle Colleges students (email, wifi, campus computers, library services, Handshake (Careers tool), on-campus printing, MyNorth/Central/South, IT Helpdesk, etc.).
How-to Videos and Guides
Once you're familiar with the basics of logging into Starfish, you'll primarily use it for the following purposes: