Cloud Computing
Companies around the world are migrating to cloud computing. Employees with experience in this field are in high demand, especially in the Seattle area, home to many technology companies. This is a great opportunity if you have an interest in computers and technology. 
What You'll Get
CompTIA A+ certification preparation – the industry standard for establishing a career in IT and the preferred qualifying credential for technical support and IT operational roles – trusted by employers around the world
CompTIA Network+ certification preparation – allowing you to develop a career in IT infrastructure covering troubleshooting, configuring, and managing networks, this powerful credential will help take your IT career to the next level
AWS Cloud Foundations certification preparation – including cloud concepts, cloud economics and billing, AWS global infrastructure, cloud security, networking, databases, and more
Project management badge to supplement technical learning

Note that while the program will provide a solid foundational learning experience for certification, additional study may be required to take and pass the certification exams.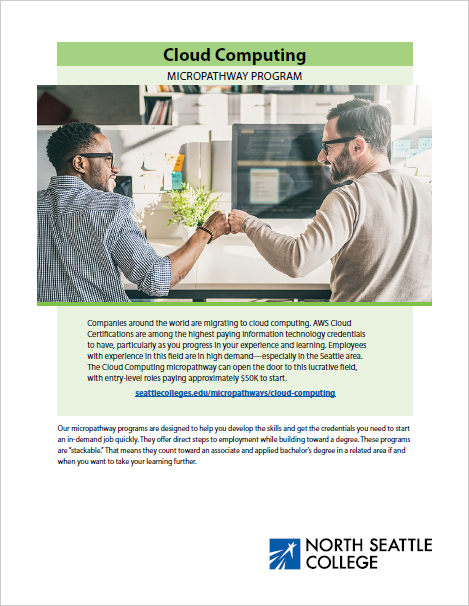 View the program flyer.
Program Details
Location: Online from North Seattle College through Continuing Education
Start Date: A new student cohort will being in January 2022. 
Additional Start Dates: The first cohort of the Cloud Computing program will begin Fall Quarter 2021. For more details on the exact start date, sign up via the form below.
 
Length: 6 months
Schedule and Modality: The program will be offered online. Sign up using the form below to get more detail regarding specific days of the week and times.
Costs: Costs are listed by class (see the Learning Pathway section below). Scholarships are available. The deadline to submit a scholarship application for the Winter Quarter student cohort is Sunday, December 5, 2021, at midnight. 
Class Size: TBD
Program Prerequisites: It is recommended that students be able to speak basic, conversational English prior to enrolling in the Cloud Computing program. It is up to your judgement whether you have enough conversation English to participate in the program – there is no formal requirement or prerequisite to enroll.
Basic math skills and basic digital skills will also be helpful in completing the program. However, there is no formal prerequisite.
A high school diploma or GED is not required for enrollment.
For Additional Questions: Contact Christy Isaacson for questions regarding enrollment, and Bob Bunge for questions regarding the program details.
To Register:
Registration for this program is now open. Not quite ready to register? Please complete this online form form to stay updated on the program via email.
Learning Pathway
Courses for the Cloud Computing program are offered through Continuing Education.
The following are confirmed for Winter Quarter 2022:
The following were offered Fall Quarter 2021:
AWS Academy Cloud Foundations $699
Introduction to CompTIA A+ $999
Foundations of Project Management $495
Job and Salary Prospects
In 2019, 90% of surveyed organizations reported severe shortages of workers with cloud skills. Nearly 80% of IT leaders say their current teams lack the needed cloud computing skills. Some of the many companies leading the transition to cloud computing and hiring for cloud skills include:
Yelp 
Etsy 
Pinterest 
Amazon 
AirBnB 
Netflix 
GE 
Capitol One 
Google 
AWS Cloud Certifications are among the highest paying IT credentials to have, particularly as you progress in your Cloud Computing experience and learning. The Cloud Computing micro-pathway will open the door to this lucrative field, with entry-level roles paying approximately $50K to start, and building to $115K - $120K with more experience and certifications.
 
If you are interested in this program, complete this online form, and we'll contact you with more information and next steps.