Residential Construction
Demand for workers with residential building skills in the Seattle area is enormous, and these jobs are both rewarding and well-paying. This new micropathway offers two options for students – one for those who are brand new to the construction industry with no prior knowledge or experience, and another option for those who currently work or formerly worked in the construction field but seek formal training to take their career to the next level. With either option, you'll learn and refine foundational construction skills, gain exposure and experience with tools and materials, and expand carpentry skills as well as interior and exterior finishing skills.
We encourage people who are traditionally underrepresented in the trades to apply for the program.
What You'll Get
A strong foundation in whole-building construction, including knowledge of appropriate tools and materials for various contexts, carpentry skills, stairbuilding, interior and exterior finishing skills, and much more (Note: the program follows the Homebuilding Institute's curriculum, which is endorsed by the National Association of Home Builders (NAHB).)
Opportunities for employment with local construction companies from the very start of the program, through graduation and beyond – earn while you learn
The opportunity for free tuition and fees provided by our generous industry partners 
NOCTI Certification – Carpentry Basic, the only nationally recognized homebuilding credential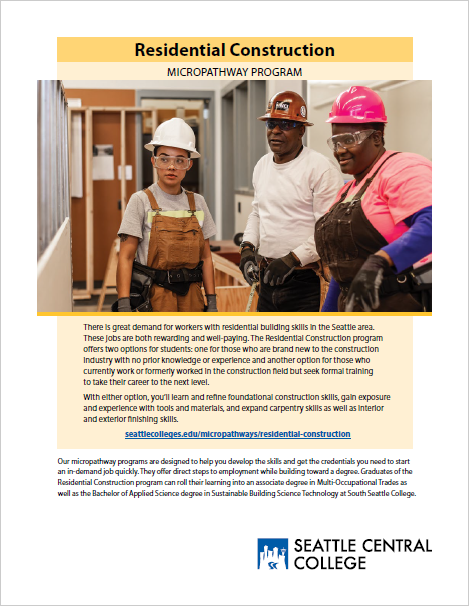 View the program flyer.
Program Details
Location: Seattle Central's Wood Technology Center 
Start Date: There will not be a Spring Quarter 2022 starting cohort. Check back for future opportunities in 2022.
Additional Start Dates: We began the first student cohort in Fall Quarter 2021 (September), and a second student cohort group began in Winter Quarter 2022 (January).
Length: 1 year 

Schedule and Modality: The program will be offered in a hybrid format, with some instruction provided in-person and some provided online.
In-person instruction will take place one evening per week for approximately 3 hours and a handful of weekend days (for approximately 4 to 5 hours) each quarter so that you can work, take care of your family, or engage other pursuits while in the program.

Classes for the Winter Quarter 2022 student cohort group (Session 2) will be held Thursday evenings beginning on January 6, with three Saturdays per quarter in the Core Shop, four hours at a time. The instructor will be Gillian Willaims.
Classes for the Fall Quarter 2021 student cohort group (Session 1) will continue Wednesday evenings, from 6 to 9 p.m., with three Saturdays per quarter in the Core Shop, four hours at a time. The instructor is Andrew Fawcett.

The online portion is simply where the curriculum and content will live, it's a platform called MindTap. Your instructor will have assignments, readings, quizzes, or tasks that need to be done weekly and take between 1-3 hours. The entire program is designed for working people, so students will not have extraordinary volumes of homework to do outside of class. The majority of all instruction will occur in the classroom and in the Core Shop.
Costs and Funding: $1,495 per quarter, plus a one-time cost of $175 for the online curriculum. While federal financial aid is not available for this program, several construction companies have stepped up to offer paid employment to students in the program. Some may also pay a portion of tuition and fees.
The scholarship process is closed for the 2021-22 academic year. Scholarships are awarded based on financial need, and we encourage people who are traditionally underrepresented in the trades to apply.
Class Size: 7-20 students
Program Prerequisites: It is recommended that students be able to speak basic, conversational English prior to enrolling in the residential construction program. It is up to your judgement whether you have enough conversational English to participate in the program, There is no formal requirement or prerequisite to enroll. Basic math skills (for instance, adding and subtracting fractions) will be helpful in completing the program. However, we will review this content during the program as well. There is no college-level math requirement or prerequisite. A high school diploma or GED is not required for enrollment.
For Additional Questions: Contact Saori Sampa for questions related to enrollment and for questions related to the program details.
To Register
REGISTER HERE for Spring Quarter 2022 student cohort group 2 (Session 2, Part 2) 
This student cohort began in Winter Quarter 2022 (January 2022)

REGISTER HERE for Spring Quarter 2022 student cohort group 1 (Session 1, Part 3)
This student cohort began in Fall Quarter 2021 (September 2021)

Classes are offered through Continuing Education at Seattle Central College.

Not quite ready to register? If you are interested in this program, complete this online form.
 
Learning Pathway
Coursework will focus on skills noted in the accordion boxes below. Note, the schedules are different for students in the cohort groups that began in Fall 2021 and Winter 2022. 
Students who already possess the skills covered in Part 2 and/or currently work in the construction industry can register for part 3 of the program offered Spring Quarter (the continuation of the cohort that began in Fall 2021).
Next Steps
Upon completion of the micropathway program in Residential Construction, you have several options, including: 
Job and Salary Prospects
The sky is the limit when it comes to employment in the Residential Construction field. Potential employment opportunities include:
Blue Sound Construction
Ashworth Homes
AmyWorks
Mighty House Construction
Many other industry association members of Master Builders of King and Snohomish County and Building Industry Association of Washington 
Starting salaries average $45K per year. The median salary for residential construction jobs is $65K annually, with more experienced workers earning over $105K per year. Construction site supervisors and lead carpenters can earn upwards of $70K per year in addition to medical and retirement matching benefits. Continue on to project management or entrepreneurship? The earning opportunities only improve.