Residential Construction
Demand for workers with residential building skills in the Seattle area is enormous, and jobs can be rewarding and well-paying. This new certificate program provides hands-on career training in "whole building" residential construction. Designed to put your skills to work in the field, this program is open for people with no experience, as well as anyone currently working in construction who would like to take their career to the next level.
Learn foundational construction skills, gain experience with tools and materials, develop carpentry skills, and build interior and exterior finishing skills. Lecture, discussion, and written materials will prepare you to take the Carpentry Basic Certification exam. Gain the knowledge and experience for gainful employment and advancement in residential construction.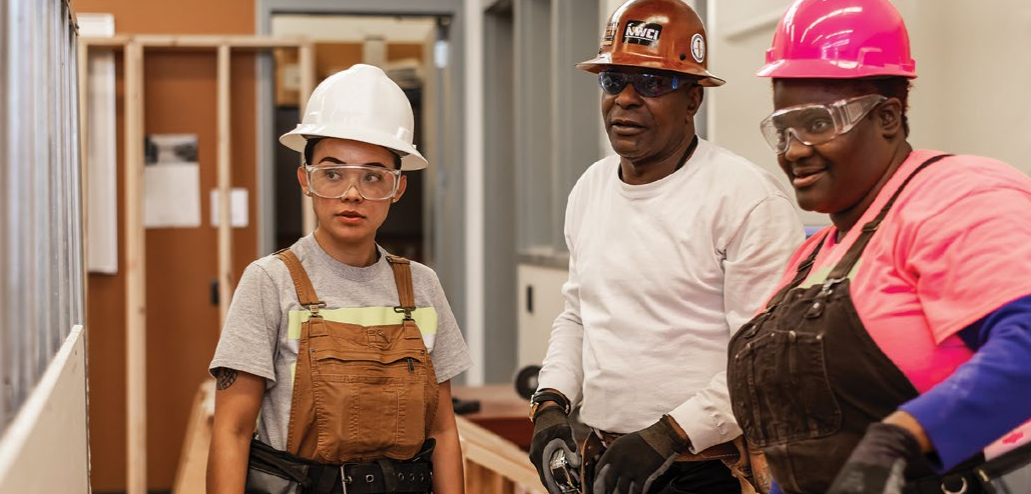 What You'll Get
A strong foundation in "whole-building" construction - The program follows the Homebuilding Institute's curriculum, which is endorsed by the National Association of Home Builders (NAHB).
Networking opportunities with local construction companies - Meet prospective employers.
Preparation for the Carpentry Basic Certification exam by the National Occupational Competency Testing Institute to earn certification from the Home Builders Institute
Program Details
Location: Seattle Central College's Wood Technology Center, 2310 S. Lane St., Seattle
Start Date: Fall 2022; students in existing cohorts should continue to enroll each quarter. 
Length: 3 quarters for students starting Fall Quarter 2022 (4 quarters for prior cohorts, before we consolidated the curriculum)

Schedule and Modality: Hybrid format; most instruction is provided in person and some content is provided online.
Schedule:
In-person instruction: one evening per week (approximately 3 hours), plus a few Saturdays (approximately 4-5 hours) each quarter 
Online: the curriculum and content can be found online; weekly assignments, readings, quizzes, or tasks will take 1-3 hours/week. 
Note: The entire program is designed for working people, so students will not have large volumes of homework to do outside of class
Costs and Funding: $1,495 per quarter
Note: Federal financial aid is not available for this program, unfortunately. If you are working in construction, check with your employer to see if they will cover training expenses.
Class Size: 7-20 students
Program Prerequisites: It is recommended that students be able to speak basic, conversational English in order to participate (up to your judgement). Basic math skills will be helpful, such as adding and subtracting fractions. However, there are no required prerequisites.
Questions: Contact Saori Sampa, saori.sampa@seattlecolleges.edu, program manager with Continuing Education at Seattle Central College.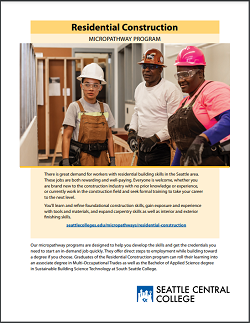 Residential Construction Informational Flier
Learn More and Register
Not quite ready to register? If you are interested in this program, complete this online form.
Future Opportunities
Upon completion of this program, you can: 
Use your new skills and credentials to get a new job or seek a promotion in the construction industry.
Continue your education and pursue an associate degree or an applied bachelor's degree (although graduates of the Residential Construction program will not receive academic credit for a degree). Related programs of interest might include: an associate degree in  Multi-Occupational Trades at South Seattle College as well as the Bachelor of Applied Science degree in Sustainable Building Science Technology at South Seattle College.
Job and Salary Prospects
The sky is the limit when it comes to employment in the Residential Construction field. Potential employers, please read Info for Employers.
Potential employment opportunities include:
Blue Sound Construction
Ashworth Homes
AmyWorks
Mighty House Construction
Many other industry association members of Master Builders of King and Snohomish County and Building Industry Association of Washington 
Starting salaries average $45K per year. The median salary for residential construction jobs is $65K annually, with more experienced workers earning over $105K per year. Construction site supervisors and lead carpenters can earn upwards of $70K per year in addition to medical and retirement matching benefits. Continue on to entrepreneurship -- the sky is the limit!