Enjoy Our Campuses—North

Art Gallery: North Seattle College Art Gallery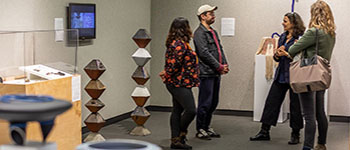 Instructional Building
Ground level, Room 1430 (next to the bookstore)
9600 College Way North
Seattle, WA  98103
Admission is free.
Phone: 206.934.4557
Website: artgallery.northseattle.edu
Hours
Monday-Thursday: 11 a.m. to 7 p.m. 
Friday: Noon to 5 p.m.
North's Art Gallery is operated by the Art Department with support of the Associated Student Body for the enjoyment and enlightenment of the art students and the community at large. Established in 1975, the gallery provides visual arts exhibits of local and regional artists in group shows under various topics. It is funded in part by the North Seattle College Art Group, the Associated Student Body, the Humanities Division, and the college as a whole. The gallery strives to bring quality art to local community members for their education and enjoyment and show works of local artists in group exhibitions almost exclusively. North Seattle College Art Gallery is a member of the American Federation of Arts. An events calendar is available on the website.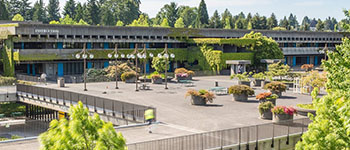 Related: Notable Architecture and Murals
The main building structure of North Seattle College is notable for its neo-brutalist style of architecture. A number of murals adorn the concrete walls.
 
Bookstore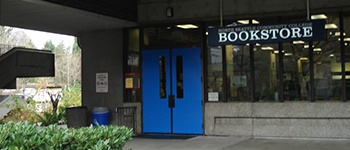 Instructional Building
Ground Level, south end on the Courtyard
9600 College Way North
Seattle, WA 98103
Phone: 206.934.3637
Website: www.bkstr.com/northseattlestore/home
Hours
Monday-Thursday: 8 a.m. to 4 p.m.
Friday: 8 a.m. to 1 p.m.
Saturday-Sunday: closed
In addition to textbooks and other books, North's bookstore offers an array of gift items including apparel, mugs, pens, and other items showcasing school spirit. The store also offers greeting cards, gifts, dorm furnishings, and computer supplies as well as art and specialty supplies. There's also an elegant, high-end line of recognition products for awards and gift-giving occasions. Mailing supplies, school supplies, and business accessories—such as portfolios, briefcases, and organizers—are always in stock.
 
Coffee and Espresso Lounge
College Center
Ground floor commons area of HSSR building
9600 College Way North
Seattle, WA 98103
Website: northseattle.edu/campus-life/dining 
Hours (open only when classes are in session)
Monday-Thursday: 8 a.m. to 7 p.m.
Friday: 8 a.m. to 2:30 p.m.
Saturday-Sunday: closed
The Espresso Lounge offers a full range of great Caffé D'arte coffee drinks. Check out the fresh pastry selections and the cold drink cases too.
 
Community Garden: Licton Springs P-Patch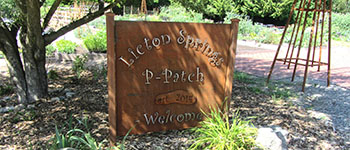 College Way N and N 92nd Street
Seattle, WA 98103
Website: northseattle.edu/licton-springs-p-patch
The Licton Springs P-Patch started as a student-driven initiative at North Seattle College in 1976. The land intended for the first community garden ended up as a school parking lot. Several years ago, the North Seattle College Sustainability Committee revived the dream and began an approval process to finally bring a community garden to the local neighborhood.
 
Equity & Welcome Center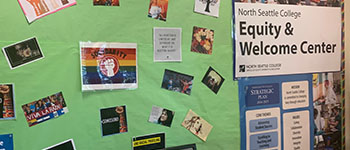 College Center Building, Room 1151
9600 College Way North
Seattle, WA 98103
Phone: 206.934.3719
Website: northseattle.edu/equity-welcome-center 
Hours
Monday-Friday: 9 a.m. to 4 p.m. while classes are in session
Saturday-Sunday: closed
The Equity & Welcome Center advocates for the success of diverse and historically underserved communities on the NSC campus. This includes communities from all cultures, ages, religious beliefs, races/ethnicities, sizes, gender identities, abilities, qualities, sexual affiliations, socioeconomic classes, veteran status, political beliefs, and citizenship and sovereign nations status. The Center aims to identify and implement equitable strategies to end all racial and other equity gaps at NSC. Everyone is welcome.
 
Facility and Room Rental – North Seattle College
Rent a meeting or event space. Whether you are planning a small meeting, a large conference, or something in between, we have an abundance of classroom and event space for rent as well as all the technology you'll need and on-site catering services.
For more information, contact: 206.934.7704, 206.934.7702, or 206.934.5660.
Website: northseattle.edu/events-and-rentals
 
The John Lewis Memorial Bridge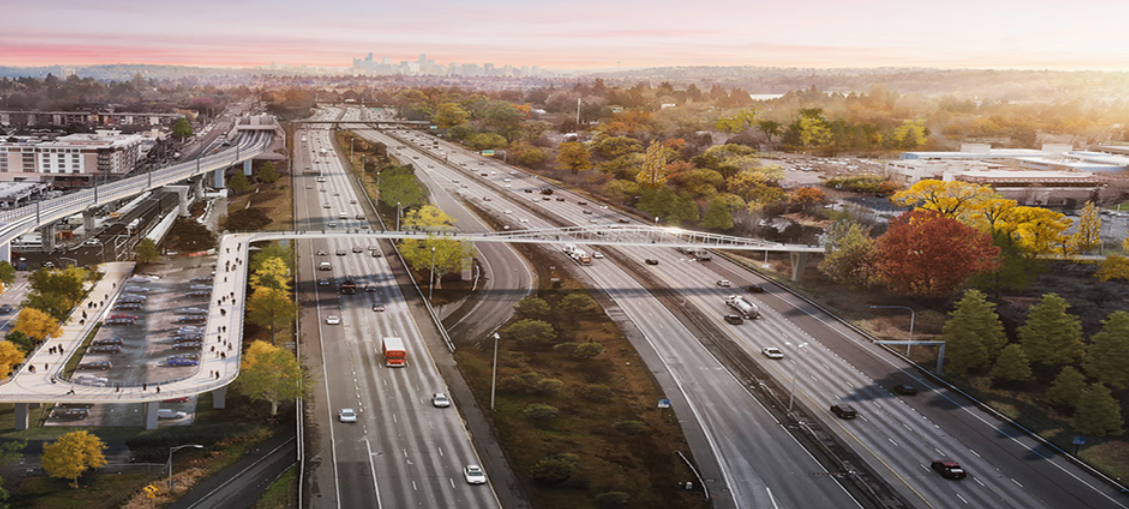 This pedestrian and bike bridge crosses Interstate 5 (I-5) in Northgate and is accessible to all ages and abilities. The bridge spans roughly 1,900 feet over I-5, landing at North Seattle College on the west side and at 1st Ave NE and NE 100th St, near the Link Light Rail station, on the east side.
Website: northseattle.edu/parking-transportation/northgate-pedestrian-bridge

Tours for Prospective Students
Learn more about North Seattle College on a campus tour. Get information to schedule an admissions information and campus tour or a customized individual or group tour at northseattle.edu/about/visit-our-campus.
 
Wellness Center: Roy Flores Wellness Center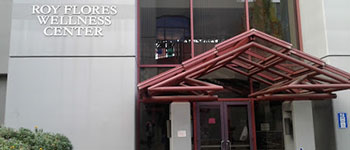 Near East Campus Parking Lot (next to Interstate) 
59600 College Way North
Seattle, WA 98103
Phone – Front Desk: 206.934.3631
Phone – Information Line: 206.934.3649
Website: northseattle.edu/wellness-center 
Hours
Hours vary by quarter, during finals, and quarter breaks.
Please refer to the website.
The North Seattle College Wellness Center offers a variety of ways to begin a more active life. The Center is a 44,000-square-foot facility that offers wellness, fitness, recreation, and sports programs for NSC students, employees, and alumni. It is also available to the general public through a fee-paid membership option. The facility features a fully equipped strength and cardiovascular conditioning center; two conditioning studios; and an elevated, glass-enclosed track. The second floor features a large gymnasium for basketball and volleyball. A variety of drop-in fitness classes are offered, varying by quarter.
Please contact the front desk at 206.934.3631 for more information and to purchase a Community Membership.
 
Wetlands – Bartonwood Natural Area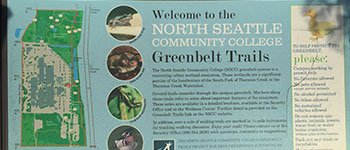 Trails and sanctuary area
North edge of campus
Website: storymaps.arcgis.com/stories/2e53e5964cf14ff3b7a8f47f8303a070
North Seattle College is proud of the restored wetlands on its campus. These wetlands are important ecological lands for the Thornton Creek watershed as they sit at the headwaters of the South Fork of Thornton Creek. Environmentally, the wetland habitat is significant for the functions it provides: absorbing surge flows of water, filtering pollutants from that water, and providing critical habitat for organisms that need this environment. A main trail follows a loop around the northern part of campus. There are spurs that branch off of this main loop trail.
Select a college campus below and follow the link to learn more.
North Seattle College | Seattle Central College | South Seattle College