About Project Baldwin
Project Baldwin is a mentorship initiative at Seattle Colleges to boost completion and transfer outcomes for Black, Latinx, Native American, and Asian Pacific Islander males. These students typically complete programs at rates significantly lower than their White and Asian peers. Evidence shows that the extra support of mentoring can make a life-changing difference for all students, but especially students of color and particularly men of color.
Goals
Project Baldwin works toward these student-centered goals:
Develop an educational and professional network
Encourage and nurture educational and career aspirations
Create a plan for achieving academic and career goals;
Increase capacity to handle life's challenges with trauma informed practices
Increase self-confidence, mental health awareness, and leadership skills
Build relationships and brotherhood bonds
These goals are drawn from best practices, lived experiences, and successful efforts—both locally and from across the country—and aimed to counter stigmas and assumptions on campus about men of color and what they can achieve.
Partnering with College Mentorship Groups
Project Baldwin operates in partnership with student affinity groups that focus on mentorship at our colleges: 
North's Bridge Builders: Brotherhood/Mentorship Initiative
Central's Fellas Fridays and Springboard8
South's Men of Color (SMOC).
Project Baldwin provides support, funding, structure, and mentorship to these current initiatives to become more institutionalized and sustainable.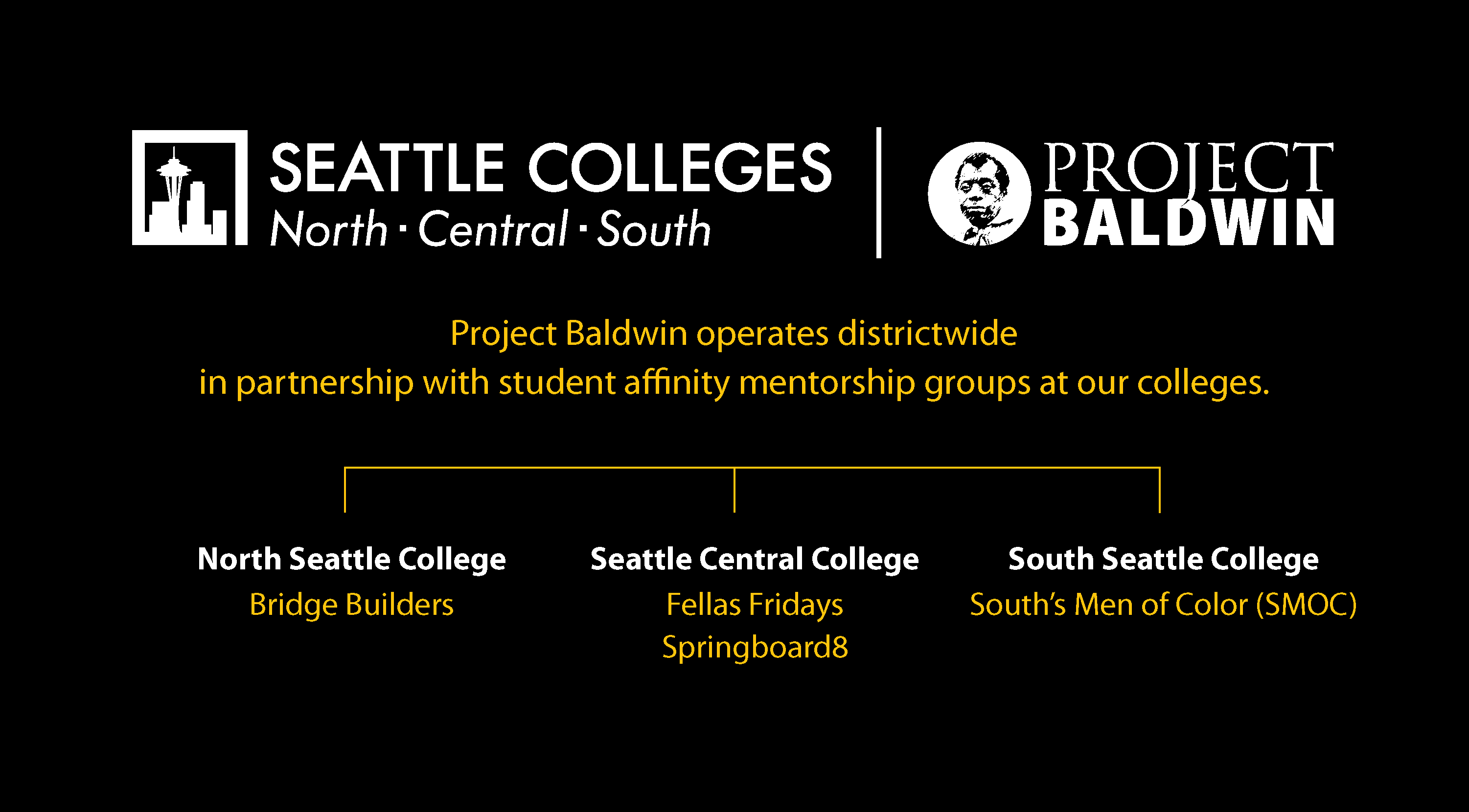 About James Baldwin
James Baldwin's plays, essays, poems, and novels looked unflinchingly at the Black experience and the complexities of masculinity, sexuality, and class in American society.
Leadership and Funding
Project Baldwin Leadership Committee: 
Funding for this initiative is provided by the Seattle Colleges Foundation.
 
Some Guiding Thoughts for Project Baldwin
At Seattle Colleges' 49th Annual Community Celebration of Martin Luther King, Jr., special guest keynote speaker T. Elon Dancy, PhD, offered some guiding thoughts for Project Baldwin in relation to the legacy of MLK.