Parking and Commuting
Employee Parking
Parking for faculty and staff is available at each of our colleges and is by permit only. Parking permits are available at the Cashier's Office on each campus. Parking regulations differ from campus to campus. For specifics, daily parking rates, and details about parking permits and guest permits, refer to your home campus. Note: If you're a qualifying faculty or staff member who doesn't purchase a single-occupant-vehicle parking permit, you may be eligible for special benefits if you carpool, walk, or ride a bicycle to campus.
Commuting via Public Transit
A variety of transportation benefits are available to employees throughout the district. Seattle Central is well-served by buses and Link light rail traveling through downtown Seattle where it's easy to transfer to Metro and Sound Transit buses serving most of King County. North Seattle and South Seattle have traditionally had somewhat more limited bus service, but service to both colleges now provides better access to many bus routes, and Link light rail expansion to Northgate opened in fall of 2021.
Light Rail
SoundTransit's Link Light Rail directly serves two of our colleges:
Bus Service
Several bus routes serve our colleges. For assistance charting your route, use King CountyMetro's Trip Planner and SoundTransit's Trip Planner.
Additional public transit information is available for each college:

All Seattle Colleges employees are invited to take part in the 2022 Seattle Commute Survey, available online at https://bit.ly/seattle-commute-survey from Monday, October 3, through Friday, November 18, 2022. The Seattle Commute Survey takes only about 5 minutes to complete. Preview and download a PDF of the survey questions.
This statewide survey gathers information about how more than 500,000 employees in Washington State commute to work. Having accurate data about commuting is important to state and local governments in deciding how to invest our tax dollars in transportation. Your information may also be used in-house to determine possible adjustments to the commuter benefits package. Large employers (100+ employees) in Seattle are required to measure commuter behavior every two years. A significant survey response rate or a minimum of 50% response rate is required by each worksite.
Who should take the survey? What about remote work? 
All Seattle-based employees should take the survey, remote workers included. The more people who complete the survey, the easier it is to achieve a significant response rate. Remember, remote work can significantly reduce drive-alone rates and vehicle miles traveled. Even before the pandemic and explosion of telework, the Washington State Department of Transportation (WSDOT) and the Seattle Department of Transportation (SDOT) had a long standing practice of including remote workers in the survey.
What is the point of this survey?
Commute Seattle and SDOT are aware that there has been a drastic shift in travel behaviors over the last two years. This year is also unique in that the Seattle Department of Transportation is working on the Seattle Transportation Plan and One Seattle Plan to guide their work in the coming years. It is critical that commuter voices are heard in this planning process.
Additionally, this work is more important than ever as our climate changes. Collecting data on a city-wide level provides decision makers and planners with the information they need to make changes that increase the quality of life in our region. Don't miss this chance to give your organization a voice in Seattle's transportation future.

Public Transit ORCA Cards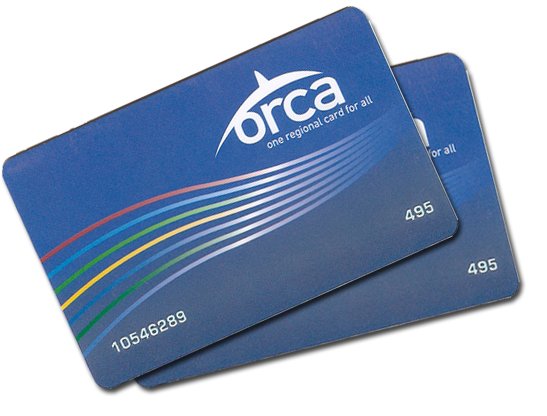 ORCA (One Regional Card for All) is a transit pass that allows commuters to ride regular Metro, Sound Transit, Pierce Transit, Kitsap Transit, Community Transit, and Everett Transit service anytime, anywhere all over King, Snohomish, Pierce, and Kitsap Counties. The pass is available to eligible employees as well as students at a subsidized rate and can be used for personal as well as college use. Faculty and staff members may purchase an ORCA card or campus parking permit for their college according to their job classification.
Public transportation includes: Link light rail system, Metro streetcars (the South Lake Union Streetcar and the First Hill Streetcar), the Sounder train (Everett to Tacoma), some Amtrak Cascades trains between Seattle and Everett, the King County Water Taxis (West Seattle and Vashon routes) and the Kitsap Transit foot ferry (Port Orchard and Annapolis routes).
Purchasing ORCA Cards 
As a Seattle Colleges employee, you may obtain a parking permit or an ORCA card but not both. If you're an employee and wish to receive a transportation benefit or product, you pay a quarterly Transportation Management Program (TMP) fee.
ORCA cards may be obtained on an annual or quarterly basis. You can pick up an application form in your division or transportation office. Sites may vary by college as to pickup location for the annual or quarterly card; please check with your transportation office. Annual cards require periodic payroll deductions for both the card and the TMP fee. Quarterly cards require full payment for the card and TMP fee at the cashier's office at time of purchase. Staff or faculty who work less than 50 percent of time are not eligible, at this time, for payroll deductions of transportation products.
Transportation benefits may vary slightly by location. Please check with your campus Transportation Coordinator.
Other Parking and Commuting Resources