The Biweekly

Dr. Rosie Rimando-Chareunsap Appointed Acting Chancellor
On June 9, 2022, the district Board of Trustees voted to appoint Dr. Rosie Rimando-Chareunsap as Acting Chancellor, beginning July 1, 2022.  The Board is scheduled to hold a retreat on July 2 to discuss the process for hiring the Interim and the permanent chancellor.
 
Seattle Central College Hosts Open Forum for Interim President Finalists
The Interim President Search Committee recommended four finalists for consideration. The four finalists were interviewed by members of the Chancellors' Executive Cabinet and by Trustee Louise Chernin, Trustee Rosa Peralta, and Chancellor Shouan Pan, on Monday, June 13.  Open Forums were held on Wednesday, June 15. 
The four finalists are:
Dr. Dwayne A. Hunt
Dr. Hunt is currently the Vice President of Student Services at Yuba College in California. He has over 10 years of leadership experience in community colleges in Florida, Pennsylvania and elsewhere in California.
Dr. Bradley Lane
Dr. Lane is the Vice President for Academic Affairs at Santa Monica College in California. He has 12 years of experience in the Seattle Colleges district, most recently as Executive VP at Central until 2021.
Dr. Kenneth Lawson
Dr. Lawson has been the Vice President of Instruction at Skagit Valley College since 2013. He has also worked as a Dean at Seattle Central and Shoreline Community College in prior years.
Dr. Steven Thomas
Dr. Thomas is currently the Vice President at Peninsula College. Prior to this role, he worked as a VP in a community college in Maryland and served as a dean at North as well.
Chancellor Pan expects to make the final selection decision before the end of June 2022.

Chancellor's Farewell Message
Via this last Bi-Weekly, I wish to bid Seattle Colleges farewell. My community college work may continue, but my service as Seattle Colleges chancellor ends on June 30.
In May 2016, the Board of Trustees appointed me as the district chancellor. Six years, though surpassing the average tenure of Seattle Colleges chancellorship, feels both short and long, depending on the angle of perspective.  Though I served at the helm over the past six years, I always knew that I was a short-term steward, entrusted to help enrich, sustain, and advance the institutional mission while I was in office. However, I approached my work with full devotion and clear intention to make it better.  With guidance from the Board and support of colleagues across the colleges and district offices, we brought about the integration of HR, IT, Webservices, International Education, eLearning, and corporate training. Today, the Seattle Promise program is recognized locally and nationally as a model of equitable student success and the "Equity Can't Wait" Campaign, launched by the Seattle Colleges Foundation, is raising a record amount of funds in support of students and EDI priorities. In partnerships with community and corporate partners, we have initiated five non-credit micro-pathway programs, in addition to a new Associate degree in Fire Sciences and BS degree in Computer Science. We have brought on board our first cabinet-level Associate Vice Chancellor of EDI who is leading the implementation of important projects under Seattle Colleges Equity 2023.
That is the thumbnail sketch of the work in which I have been a part.  That work is not perfect, but it was requested by the Board and necessitated by the circumstances.  I am proud of the progress we made together. I am indebted to all, whether you supported or opposed the work of integration because engagement was, and always will be, necessary in this large, complex, multi-college district.
Amid so many uncertainties, one thing is certain: Seattle Colleges will continue to change and evolve. I have no doubt that this district will continue to do life-changing work for the community.  However, I firmly believe that the way forward demands working together, cheering each other on, and making adjustments and even sacrifices, for the sake of serving students and sustaining the institution for the long haul.
As I transition out, I want to express my gratitude to the Trustees for their trust and guidance; to the executive team for the cherished opportunity to learn and grow together; to the faculty and staff for training me to be a better leader; and to students for reminding me of the reasons we do this important work.  To everyone, thank you for the privilege to serve.
--Shouan Pan
Re-setting the Guided Pathways Work 
Building upon the progress of the past three years and taking the advice from SBCTC Guided Pathway coaches, the college presidents and the chancellor initiated a recalibration of Guided Pathway work across the District. The recalibration work includes a) Dr. Yoshiko Harden assumes the role of Executive Sponsor, b) reconstitute the composition of district-wide Steering Committee that will include vice presidents, IR and EDI administrators, c) establish four priority focuses for the AY 22-23.  This year, three colleges have submitted one combined report to the SBCTC.
Reminder: Budget Forums
 North Seattle College
Tuesday, April 19
1 p.m. – 2 p.m.
Room CC1161
 South Seattle College
Wednesday, April 20
1 p.m. – 2 p.m. 
Olympic Hall Theater
Room SSOLY0120
 Siegal/District Services
Thursday, April 21
1 p.m. – 2 p.m.
Seattle Central
Room BE4106
 Seattle Central College
Wednesday, May 4
1 p.m. – 2 p.m. 
Room BE4106

Congratulations to Faculty Emeritus
At the April 14 Board of Trustees meeting, the board considered AFT's recommendation to grant Emeritus status to the following eligible faculty. Emeritus status is granted to retired faculty or those who have died in service and have made significant contributions to the District's values of service, excellence, diversity and effective leadership. 
North Seattle College
Lynne Hull, Arts Humanities & Social Sciences
Steven Quig, English, Arts Humanities & Social Sciences
Seattle Central College
Nada Oakley, Arts Humanities & Social Sciences
William Tennyson, Business
Rebecca Tesdell, Basic & Transitional Studies
Denise Vaughn, Basic & Transitional Studies
South Seattle College
Margo Harder, International Edu. Program & Basic & Transitional Studies 
Mike Hickey, College Transfer
Yilin Sun, Basic & Transitional Studies
 
Seattle Colleges Board of Trustees Recruiting Community Leaders to Fill Anticipated Vacancy
After serving on Seattle Colleges Board for eight years, Trustee Steve Hill's term is set to expire at the end of September 2022. With this anticipated vacancy, the Board is recruiting community leaders for nomination and eventual appointment by Governor Inslee. The new trustee will assume the role on October 1, 2022. Individuals who are residents of Seattle may be nominated for consideration. 
 
To find out more about trustee recruitment, visit the Board of Trustees webpage at: https://www.seattlecolleges.edu/about/leadership-and-organization/board-trustees/trustee-recruitment. Faculty, staff, and students are welcome to contact the Chancellor's Office to discuss recommendations of potential candidates.
 
Volunteer Opportunity: Become a Foundation Scholarship Reviewer
Seattle Colleges Foundation is recruiting volunteers to join the Scholarship Reviewers Committee. To apply for the Scholarship Reviewers Committee, please complete the application at the link below and sign off on the Confidentiality and Conflict of Interest agreement. 
 
The annual scholarship application is open to students from all three of the Seattle Colleges. Together, our efforts can add up to greater student recruitment and retention, helping rebuild enrollment post-pandemic. 
 
Other things you can do to help: 
Share our Facebook and Instagram posts about scholarships on your program, department or even personal pages.
Add one of these slides to your classroom PowerPoint and encourage students to find out more on our scholarships page.
Print this flyer and post where students might see it. 
 
Questions? E-mail scholarships@seattlecolleges.edu
 
Kudos to Christel Olsen and the Seattle Colleges Foundation, ACT Award Nominees
The statewide Association for College Trustees (ACT) invites colleges to submit nominations for statewide awards each spring, and winners at the state level have a chance to go on to compete nationally for awards at the Annual ACT Leadership Congress. This year, Seattle Colleges submitted two nominations: Christel Olsen, Health & Safety Manager, was nominated for Professional Staff Member of the Year; and the Seattle Colleges Foundation was nominated for the Partner of the Year Award. 
 
Christel Olsen's leadership on infection control protocols, training, and contact tracing have been tireless these past two years while our institution has dealt with the changing landscape of Covid. Her nomination was supported by letters from Vice Chancellor Jennifer Dixon; AFT-SPS Union President, Cody Hiatt; and Board Chair, Louise Chernin. 
 
The Seattle Colleges Foundation is engaged in a $50 million campaign called Equity Can't Wait. The work being done now to support scholarships for students and have impact on BIPOC student success is something we are proud to lead the way on. The Foundation's nomination was supported by letters from the leaders of the WA Roundtable and United Way, as well as Board Chair, Louise Chernin.
 
2022 Legislative Session Report
The 2022 supplemental legislative session resulted in some significant new investments in CTCs and the higher education sector. Most of the requests by the CTCs and four-year institutions were funded at a level somewhere between the House Budget (which tended to be lower) and the Senate Budget (which tended to be higher.) Overall, the total Higher Ed budget (not counting one-time funding for student loans) increased by 2.5% while the total Supplemental Budget increased by 8.6%.
Access and Affordability;
The Legislature invested in an expansion of the Washington College Grant, which will allow qualifying students to receive bridge grants for non-tuition expenses such as books and room and board. The legislation also raises the threshold for the maximum WCG to 60% of median family income.(HB 1659)
The Legislature appropriated funds for a low-interest (1%), state-sponsored college loan program.(HB 1736)
Lawmakers also funded targeted outreach programs to get more students into the higher ed pipeline by applying for state and federal aid. (HB 1835)
Quality and Excellence:
The state invested in compensation for faculty and staff at all public higher education institutions. The "fund split" - the amount the state pays for salaries versus the amount each institution pays - is the most generous fund split in more than a decade. Fair compensation will help Seattle Colleges attract and retain the highest quality faculty and staff.
Apprenticeships:
Apprenticeships received more attention this session than any time in the last ten years. A comprehensive study of how other states operate and finance apprenticeship programs will be conducted by the Ruckelshaus Policy Center jointly operated by the UW and WSU. Seattle Colleges workforce and apprenticeship leaders helped shepherd this legislation through the session and will be involved in shaping the upcoming study.
In sum, we are pleased with these new investments in our top priorities during the supplemental budget session. More information is available through the State Board for Community and Technical Colleges. (www.sbctc.edu)
 
Seattle Promise Applications Reached New Record
At the end of application deadline, over 2,200 students submitted their applications for the Fall 2022 Seattle Promise Program. Of the total applicants, 69% are students of color, and 49% reported that they come from first-generation families. 
Thanks to the collective efforts by Seattle Colleges faculty and staff over the past four years, Seattle Promise has become a well-known, popular program among Seattle High School and charter school students and their families. Members of the Seattle Promise team really deserve a special shout-out for doubling up their outreach and recruitment effort. In the coming months, the Seattle Promise team will be working with college student services staff to help the applicants complete the readiness academy and other enrollment steps. Let's work together to help Promise applicants become Promise scholars.
 
Congratulations to Newly Tenured Faculty, Tenure Reception on May 25
On March 14, the Board of Trustees reviewed and approved fourteen new Tenured Faculty. Please see the list below and congratulate your colleagues on this milestone achievement. And please join the Board of Trustees on May 25 for a reception at South Seattle College Georgetown Campus to honor these faculty members, and others who have achieved Tenure Status this past year. Reception details are below, please RSVP.
North Seattle College
Nicole Cook, IT & Application Development
Lyle Crews, Real Estate Property Management
Leann Dittmar, Pharmacy Technician
Benjamin Roberts, Electronics & Engineering Technology
Vinod Sastry, Mathematics
Nausica Zorzi, Business & International Business
Seattle Central College
Janine Buis, Nursing
Katie Gourd-Ascencio, Nursing
Anna Hackman, Humanities
Ruby Hansra, Counseling
Janet Hinson, Community Health & Education
Scott Moy, Apparel Design & Development
South Seattle College
Steve Abercrombie, Sustainable Building Science Technology
Jill McDonough, Basic & Transitional Studies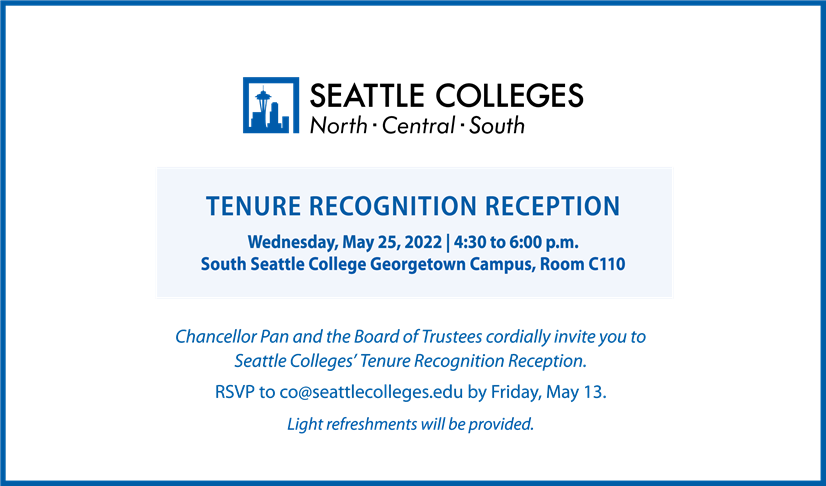 Initiating "The Biweekly" 
Beginning with this issue, the Office of the Chancellor will send "The Biweekly" to the district community.  Posted on the first and third Tuesday of the month, The Biweekly will be used to provide district-wide updates of important issues, highlight student and employee achievements, and share stories and perspectives on leadership, higher education, and community partnerships. 
The Biweekly will be an additional informal tool for improving internal communication. The Biweekly is not intended to be comprehensive, but concise and timely. Contributions or topical suggestions may be sent to co@seattlecolleges.edu.  
Celebrating One-Year Anniversary of ctcLink Going Live at Seattle Colleges 
One year ago, during the weekend of Feb. 20-21, Seattle Colleges, as part of Deployment Group 4, decided to "go live" with ctcLink conversion. Despite many issues and challenges experienced the past twelve months, we have entered the fourth quarter of working with ctcLink on a daily basis. With faculty, staff, and students becoming more comfortable and proficient in using ctcLink, we are entering a stage of stabilization, refinement, and optimization.   
As of January 7, 2022, more than 57,000 students have activated their ctcLink account since it went live on February 22, 2021.  
To commemorate this important milestone, Vice Chancellor Terence Hsiao hosted an impromptu, hybrid ctcLink Survivor Celebration. A group of employees gathered at Siegal Center, and another gathered online at 8:00 a.m., Tuesday, Feb. 22 to remember the ctclink journey and to recognize the dedication and hard work of individuals and groups over the course of two years, from preparation to conversion and to stabilization and refinement. Terence presented "survivor" certificates to many individuals. 
On behalf of the Board of Trustees and college presidents, chancellor Pan thanked faculty, staff, the ctclink Core Group, the Executive Sponsor, and the Project Lead for their significant contributions. In particular, he expressed deep appreciations to the countless unsung heroes across the colleges and district office who worked behind the scenes, during COVID-19, to learn a new system while providing support to students and faculty and staff colleagues.  
Celebrating our Transforming Lives Award Nominees
The ACT Transforming Lives Awards recognizes current or former students whose lives have been transformed by attending a Washington State community or technical college. The three students recognized this year share exceptional personal stories of persistence that highlight the importance of support from and connections with Faculty and Staff at Seattle Colleges. Please join the Board of Trustees for refreshments and a short program on March 10 at South Seattle College's Georgetown Campus to celebrate these exceptional students.