Shouan Pan
Chancellor (2016-2022)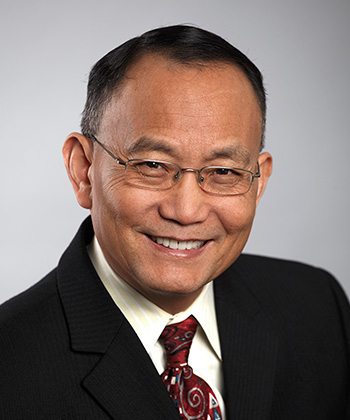 Shouan Pan, Ph.D., joined Seattle Colleges in July 2016 as its 10th chancellor. An accomplished leader in higher education, Pan brought experience as a college president, provost, administrator, and professor.
Dr. Pan spent the previous eight years as president of Mesa Community College in Mesa, Ariz. His other executive roles include provost of Broward College-South Campus, executive dean of Instruction and Student Services at Florida State College at Jacksonville, dean of Student Life at Community College of Philadelphia, and assistant professor of Educational Psychology and Recruitment and Retention Administrator at Northern Arizona University.
Chancellor Pan centered his leadership and management practices on fulfilling the community college mission and promoting student and community success. He placed emphasis on working with institutional and community stakeholders in formulating a common vision and building consensus on strategic and operational decisions. His professional success is evidenced in his strong track record of improving student success; building collaborative partnerships with educational institutions, businesses, and civic organizations to further institutional goals and community economic development; and securing external resources.
He has been actively engaged at local, state, and national levels, including membership in the American Association of Community Colleges, Association of Community College Trustees, Community Development Round Table, Greater Seattle Rotary, and Seattle Metropolitan Chamber of Commerce. In addition, he has served on the boards of the National Asian Pacific Islander Council, Campus Compact, Chair Academy, and Economic Development Council of Seattle and King County. He received several honors and awards, including the Benedictine Values Award, Paul Elsner International Excellence in Leadership Award, Innovation of the Year Award by the League for Innovation in the Community College, Shirley B. Gordon Award of Distinction by the Phi Theta Kappa International Honor Society, and Veora E. Johnson Spirit of Unity MLK Award by the Mesa MLK Jr. Celebration Committee.
Born and raised in Mainland China, Pan immigrated to the United States in 1985. He earned a Doctor of Philosophy in Higher Education from Iowa State University, a Master of Education in College Student Personnel from Colorado State University, and a Bachelor of Arts in English from Hefei Polytechnic University, RP China. He is married to Queenie Chen; together, they have two sons: Nathan and Ryan Pan.
 
Chancellor Pan's Farewell Message
Sent to employees on Monday, June 27, 2022
I wish to bid Seattle College farewell. My community college work may continue, but my service as Seattle Colleges chancellor ends on June 30.
In May 2016, the Board of Trustees appointed me as the district chancellor. Six years, though surpassing the average tenure of Seattle Colleges chancellorship, feels both short and long, depending on the angle of perspective. Though I served at the helm over the past six years, I always knew that I was a short-term steward, entrusted to help enrich, sustain, and advance the institutional mission while I was in office. However, I approached my work with full devotion and clear intention to make it better. 
With guidance from the Board and support of colleagues across the colleges and district offices, we brought about the integration of HR, IT, Webservices, International Education, eLearning, and corporate training. Today, the Seattle Promise program is recognized locally and nationally as a model of equitable student success and the "Equity Can't Wait" Campaign, launched by the Seattle Colleges Foundation, is raising a record amount of funds in support of students and EDI priorities. In partnerships with community and corporate partners, we have initiated five non-credit micro-pathway programs, in addition to a new associate degree in Fire Sciences and BS degree in Computer Science. We have brought on board our first cabinet-level associate vice chancellor of EDI who is leading the implementation of important projects under Seattle Colleges Equity 2023.
That is the thumbnail sketch of the work in which I have been a part. That work is not perfect, but it was requested by the Board and necessitated by the circumstances. I am proud of the progress we made together. I am indebted to all, whether you supported or opposed the work of integration because engagement was, and always will be, necessary in this large, complex, multi-college district.
Amid so many uncertainties, one thing is certain: Seattle Colleges will continue to change and evolve. I have no doubt that this district will continue to do life-changing work for the community. However, I firmly believe that the way forward demands working together, cheering each other on, and making adjustments and even sacrifices, for the sake of serving students and sustaining the institution for the long haul.
As I transition out, I want to express my gratitude to the Trustees for their trust and guidance; to the executive team for the cherished opportunity to learn and grow together; to the faculty and staff for training me to be a better leader; and to students for reminding me of the reasons we do this important work. To everyone, thank you for the privilege to serve.
Shouan Pan
Chancellor