League for Innovation - 2022 Innovation of the Year Award
The League for Innovation in the Community College has selected Seattle Central's Springboard8 program to receive its 2021-2022 Innovation of the Year Award. Springboard8 was developed by Seattle Central College and business and technology consulting firm Slalom. This program seeks to close the opportunity gap for Black men in completing their post-secondary degrees by offering support from peers and coaches; fostering professional development; and providing career guidance, tuition coverage and financial awards as the students work towards completion of their degree paths.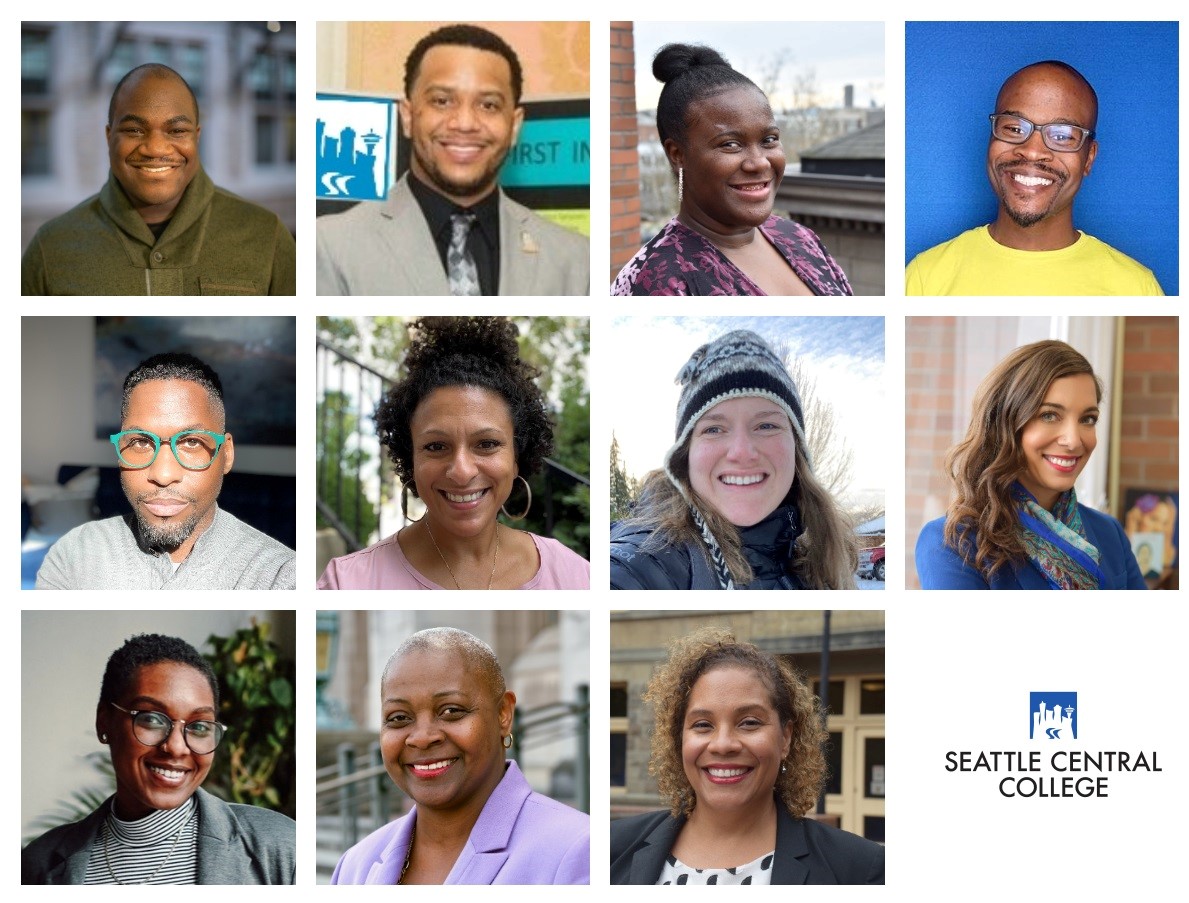 2022 Innovators
Seattle Central employees recognized as part this award:
First row, left to right:
AK Sterling, previous Interim Executive Director of Strategic Partnerships
Brandon Carroll, Program Specialist 3 for Advising and Career Services
Chiquita Wright, previous Community Relations Associate in Strategic Partnerships
Dennis Denman, Director of Student Leadership
Second row, left to right:
Eric Greer, Director, Advising and Career Services
Florie Greenhill, previous Assistant Director of Advising and Career Services
Jenni Branstad, Executive Director, Instruction and Planning
Jessica Norouzi, our previous Executive Director of Strategic Partnerships
Third row, left to right:
Mikaila Harris, Assistant Director of Equity, Diversity, and Inclusion
Sheila Edwards Lange, past President of Seattle Central College
Yoshiko Harden, former Interim President and Vice President of Student Services
Not pictured:
Kyle Darling, previous Director of Financial Aid and Veterans Affairs
Malcolm Prevo, former intern in the President's Office
Award History
Established over 35 years ago, the League's Innovation of the Year Awards were devised to recognize significant innovations at Board and Alliance member colleges. These innovations reflect significant achievements and the spirit of innovation and experimentation upon which the League was founded. The award honors faculty, staff, and administrators at member colleges who have created and implemented innovative programs, practices, partnerships, policies, and activities that improve the institution's ability to serve students and the community.