Student Registration
Information for students and parents about the steps to enroll in CTE Dual Credit. Click on any accordion box below for more information on that topic.
Follow the steps below or refer to this student registration instructions document.
1. Check the "Participating High Schools" tab, find your course on the list and check which college is offering credit for your course. Apply for the college noted by your course using the online application form.
Apply for the college:
2. Go to www.ctesers.org, the website for the Statewide Enrollment and Reporting System (SERS).
3. Click the "Student" box near the bottom of the page.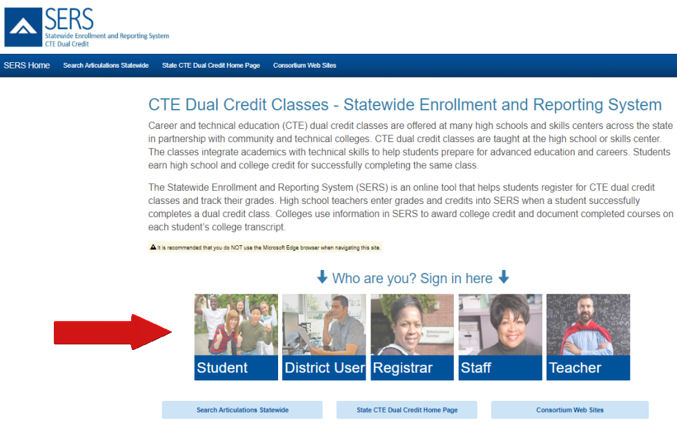 4. Students who previously have used SERS to sign up for CTE Dual Credit can sign in using their email or username and password. 
5. If you have not previously used SERS, select "Create New SERS Account".
Start by selecting a username. 
If you are seeing "Username Not Available", you will need to think of a different username.
Once you get "Username Available", you can continue filling out your information.
Fill in your name and email address.
Your email address should be an active account you will have and check regularly for the next couple years.
Enter your School District – example "Seattle Public Schools".
Select your high school.
Click next.
6. Create a password and security questions. Once complete, click next.  
7. Click "Sign in Now"

8. Fill in your student profile, then click Next.
Everything with a red dot is required. 
If you can't remember your address, you can use the school's address.
Parent/Guardian information – enter info for ONE parent/guardian.
Career Cluster and Future Plan – if you don't know yet, select the best fit for now.
9. "Account Updated Successfully" should appear on the next screen. 
10. Go to the top of the page and select "Registration" and "Register for classes".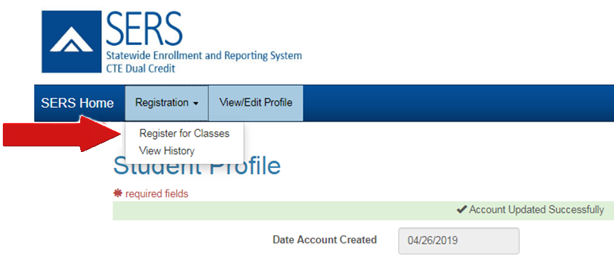 11. Search for your class using the drop down boxes to select your school district, high school, teacher, and class.
12. Check the box for your class. Click "Register".
13. On the next page, check the box to select the class again, and click "Save & Register".
14. This completes the steps for student registration. The next step is for your teachers to give you a grade by the end of the semester. Grades of a B or higher are eligible for college credit. 
At the end of the semester, high school teachers are asked to input student grades for every student who registered in the SERS system. 
Students who do not register by the end of the semester will not be graded. 
Students must achieve a B or higher in their CTE dual credit class to get credit for the class. 
Students who receive a grade of a B- or lower will be graded as "not attained" by their teachers and will not get credit. 
CTE dual credit course grades of a B- or lower do not go on a Seattle Colleges transcript.
All course registrations and grades are pulled from the SERS system at the beginning of summer. If the student does not already have a Student Identification Number at one of the Seattle Colleges, the CTE Dual Credit program assigns a number to the student. Credits and grades are added to a transcript in July and August. Students who earned credit with a passing grade are notified via email that their credits have successfully been added to their transcript. Students receive instructions on how to login to their student account and view the transcript. 
Seattle Colleges uses the National Student Clearinghouse, which allows students to request an official transcript that can be sent to any colleges for a small fee. Students will need to have their Seattle Colleges Student Identification Number handy for the official transcript order. For more information on transcripts, visit one of the following pages:
Students planning to continue attending one of the Seattle Colleges do not need to request an official transcript. For example, students who are attending Seattle Central College and earned their credit through North Seattle College don't need to request an official transcript.