Visual Identity
Visual identity is an important part of communicating who we are. The following information is intended to serve as a districtwide guide for employees.
Primary Color Blue
We use a specific blue to represent the three colleges and district office comprising Seattle Colleges. It is our signature color.
Seattle Colleges Blue
Pantone/PMS = 2935C
CMYK = 100, 68, 0, 2
RGB = 12, 72, 155
Hexidecimal (web) = 0c489b
Secondary Color for Each College 
Along with our signature, unifying blue, specific secondary colors help designate each college and highlight their individuality.
North Seattle College Green
Pantone/PMS = 2292C
CMYK = 50, 0, 94, 0
RGB = 149, 202, 89
Hexidecimal (web) = 95ca59
Seattle Central College Gold 
Pantone/PMS = 123C
CMYK = 0, 23, 91, 0
RGB = 255, 198, 47
Hexidecimal (web) = ffc628
South Seattle College Orange 
Pantone/PMS = 7413C
CMYK = 0, 50, 84, 0
RGB = 247, 148, 64
Hexidecimal (web) = f79440
Refer also to our color guidelines for web pages.
District and College Logos
We use four logos at Seattle Colleges: one logo for the district as a whole and one for each college (North, Central, and South). These logos follow a similar design formula, with an icon to the left and the name to the right. (Note: the images below are intended to serve as examples for illustration only. These versions of our logos are low-resolution and web-based.)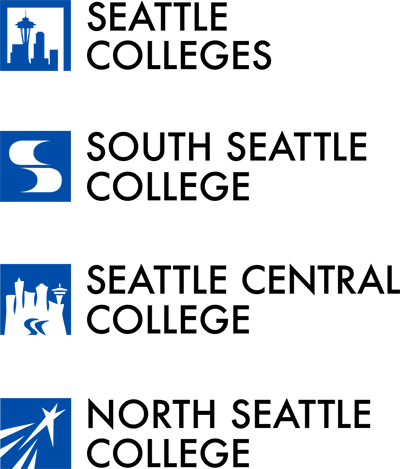 The Seattle Colleges logo offers the option to include the three college names immediately below.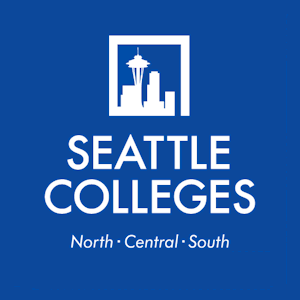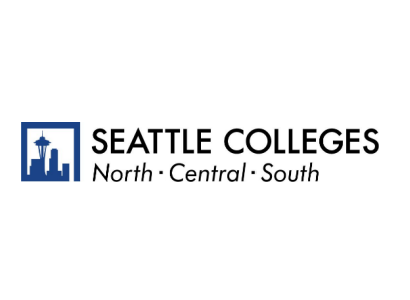 Order of Colleges
When we list our three colleges, the preferred order is North, Central, South. This is intentionally a geographically ordered list, although the sequence is also alphabetical with the full names of the colleges, North Seattle College, Seattle Central College, and South Seattle College. This geographic order also applies when we list the three colleges as part of the Seattle Colleges logo (see above).
Discontinued Tagline: "One of the Seattle Colleges"
As of 2020, we have discontinued the use of the tagline "One of the Seattle Colleges". Colleges no longer need to use this line with their individual college logos.
Brand Guide
Download Seattle College Brand Guide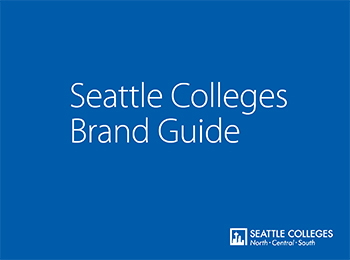 College Mascots
For more informal occasions, each college has adopted a mascot.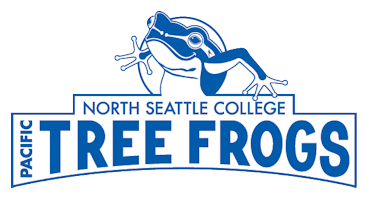 Above image size 366 x 200 pixels
Above image size 259 x 200 pixels       Above image size 262 x 200 pixels
Follow the links below for more information about our mascots. 
Seattle Promise Brand Guidelines
These guidelines have been established to ensure the Seattle Promise program's identity and relationship to Seattle Colleges and its other education and civic partners is consistent, ensuring appropriate representation and quality for this high-profile program.
Download Seattle Promise Brand Guidelines