Vaccination Incentive Scholarships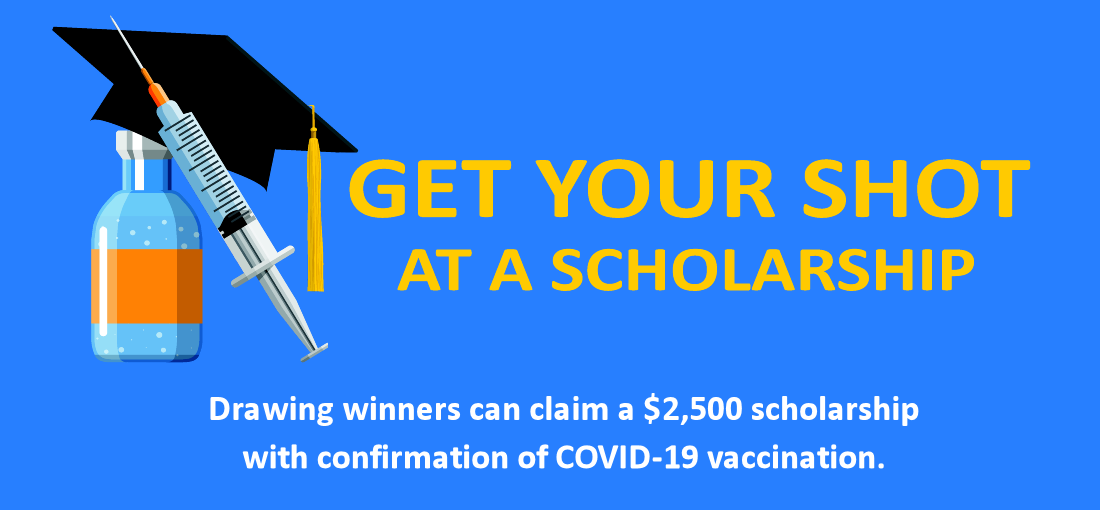 Governor Inslee and the State of Washington are funding vaccination incentive scholarships. A total of 12 vaccination incentive scholarships in the amount of $2,500 each will be awarded to students attending Seattle Colleges. Four scholarships will be awarded to students registered for Fall Quarter 2021 at each of our colleges, North Seattle College, Seattle Central College, and South Seattle College.
Vaccine Incentive Scholarship Eligibility Requirements 
Students who meet all of the following criteria will be automatically included in the selection process:
The student is registered for Fall Quarter 2021 
The student completed 6 credits or more during Spring Quarter 2021 
The student did not graduate or complete studies in Spring Quarter 2021 
The student is a Washington resident
Scholarship winners will be selected through a drawing on July 16 and notified.
Winners must provide the following information by July 28, 2021, to receive their scholarship: 
Proof that they have received at least one shot of their COVID-19 Vaccine Regimen
FERPA consent release
Learn how and where you can get vaccinated.
Note: acceptance of a Vaccine Incentive Scholarship Award may affect a student's eligibility for and calculated amounts of Federal Financial Aid and/or Public Assistance Programs. If you are selected for a scholarship, you can contact your Financial Aid Office for further information and guidance.