Lucy Corthell
Doing research is my goal. Right now I think I want to work as a research scientist for the government.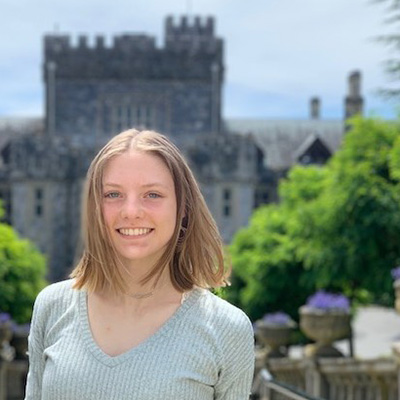 Even before Lucy Corthell graduated from Roosevelt High School in 2020, she had big plans - she already knew she wanted to attend a private liberal arts college and had been accepted into a scholarship program to study abroad in Senegal for a year before beginning college. But when the COVID-19 pandemic struck, she had to change plans in a hurry as international travel shut down and her study abroad opportunity fell through. Another rude awakening was in store when she and her mother sat down to look at tuition costs for the schools she was interested in. Corthell recalls with a rueful laugh, "I did the math and looked at my mom and said, 'I don't think we can afford any of these schools.'"
Rather than be deterred, her mother told her to wait and see what sort of financial aid she could get, and to look for other opportunities in the meantime. Corthell credits her mom, a single mother who has raised two children while working full time as a lawyer, for inspiring her, both in her life and in her ambitions. "She's taught me to be independent and how to rely on myself. She's given me such a good role model, because she's an independent woman, and that's who I want to be. When I was looking at schools she told me that she didn't want me to go to college just for a degree to help me get a job, she wanted me to go to college to change my life and inspire me to think differently about the world."
As a high school student, Corthell had taken part in the Running Start program at Seattle Central during her senior year and had already applied to be a Seattle Promise scholar before she was accepted to her study abroad program. With going overseas off the table, she returned to the idea using the year she expected to spend in Senegal completing her AA degree at Seattle Central with help from Seattle Promise, with plans to transfer in 2022 to her school of choice, Juniata College in Pennsylvania.
It's been a great fit so far. Corthell is thriving in class and is joining the Phi Theta Kappa honor society, through which she hopes to be able to get additional scholarship support when she transfers, as well as pursuing internship opportunities to keep exploring the fields of chemistry and engineering in the meantime. "I think it was a great choice, I love going to Seattle Central," she tells us, "It's so fun, I love all of my teachers and I'm in the MESA Program, which helps underrepresented students get into STEM fields."
Corthell's ambitions include a career in the historically male-dominated field of engineering, although she feels the pull of several different areas of study. "I'm really interested in science and engineering. I think I want to become a chemical engineer, but I'm not entirely sure yet because I'm really into mechanical engineering too! I'm hoping to do lots of internships in college, so I'm not totally sure where my career will go. Currently research is my goal – I think I would want to work for the government as a research scientist."
Happily, she's found plenty of support for her dreams at Seattle Central, and the MESA office in particular. "I love the MESA director, Ms. Marilyn," she says, "She is so helpful! She helped me with my LinkedIn profile, my resume and with essays to apply to internships."
That support hasn't gone to waste, either – she's already getting internship offers, with more expected to roll in. "I actually just had an interview for one a few days ago and have another next week, so I'll be doing an internship soon," she tells us, the excitement obvious in her voice, "One is through Fred Hutch learning about neuroendocrine tumors, a really rare form of cancer. The one I'm interviewing for next week is a partnership between UW and Fred Hutch, and I'd be studying STIs and how they affect the immune system, so super interesting as well… over the summer I'll be applying to more research internships at the UW, which are more material science and chemical engineering focused."
The Promise program has also provided unexpected advantages for the future scientist. "I think a lot of people don't realize, or at least I didn't realize, is that Seattle Promise isn't necessarily a program for you to take an easier path, or just get a two-year degree for free. It's a place where you can get free college and then move to another really good school to get your degree. There's even a lot of scholarships available when you transfer! I wish that more people knew that it was more of an entryway, instead of a shortcut. Honestly, if I had known that it would have been higher up my list when I was looking at schools."
She also had warm words for her Promise counselor, Sabrina Strong-Nasabal. "I love Ms. Sabrina so much! She's so encouraging and has great lessons to teach. We get to check in with our counselors quarterly, and I've gone to check in with her several other times as well, just to ask her questions. She was really good about asking me about my goals and even if they were really big goals, Ms. Sabrina would name off a ton of people, different programs that could help me. She actually sent me a Department of Energy internship that is my number one goal for the summer."
When asked for her advice to other prospective students examining their options, she gave these words of wisdom. "Apply, see what happens, and then make a decision. Not applying would be the biggest mistake! There is financial aid available, even housing support if you need it, so definitely apply."
She continues, "People think because it's a community college there will be fewer opportunities, but there are so many outlets for us. Plus it's a smaller school, so my class sizes are only around 20 people, and it's easy to get help. There are a lot of programs, so it's a place where you can find new interests and explore your passions. It's actually kind of like a liberal arts college."