Fathima Garcia
I just want to be surrounded by people
and help in whatever way I can.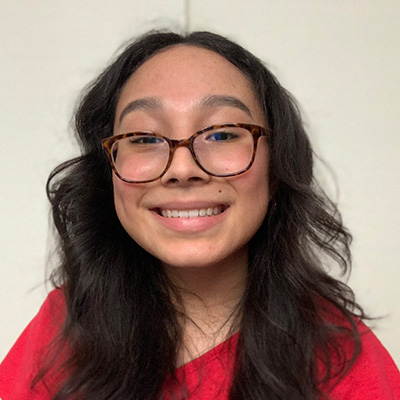 This is the first part in an ongoing series beginning in May 2021, where we'll be following up with Fathima throughout her first year at Seattle Colleges. Please enjoy Part 1 – Graduating High School and Preparing for College.
With her high school graduation fast approaching, Fathima Garcia is already making strides towards her future dream to bring people together and help them to form community bonds, in college and beyond. The Cleveland High School senior and incoming Seattle Central College freshman plans to study business and marketing with the help of the Seattle Promise – fields of study with which she's already well acquainted. "I've been in ASB, our student government, all 4 years of high school, and I run all the Instagram pages for my school," she explains, "So I've gotten a lot of first-hand experience in making flyers, advertising events and managing their accounts."
Beyond her efforts as 2021 class president, Garcia is also in the process of completing a marketing internship with an area apartment complex as well. "I'm very interested in social media marketing, and they've given me the chance to run their social pages! I'm writing their social media and planning for their Facebook and Instagram pages, as well as Craigslist. When I started they didn't have much, only about 3 posts a month. For the month of April I had 13-15 posts planned, and I've planned a lot out for May and June too. I'm going to follow them on Instagram after the internship ends to see how they follow up. It's given me a better understanding of marketing, and I really like it!"
As a gifted student and leader in student government, attending college was a foregone conclusion for Garcia – what was less certain was financing it. Inspired by her 21-year old brother who used a Promise scholarship to complete his AA at South Seattle College and is now completing a bachelor's degree in international business at North Seattle College, she also opted to take advantage of the Seattle Promise and pursue her AA as her first step into higher education. When asked what Promise meant to her, Garcia replied, "The Seattle Promise definitely makes college more accessible. I would have gone to college either way, but I asked myself, 'Do I want to graduate with $30,000 to $100,000 in debt?' No, of course not! Promise makes it a lot more manageable for me to go to college and not have to worry so much about finances."
Having recently completed an internship through the Boys & Girls' Club's Youthforce program, one of Garcia's dream careers after college is to use her media prowess to ensure similar opportunities are available for future generations. "As I get older, I wonder about the future for community organizations like Boys & Girls," she explains, "I feel that because of the internet and social media, people don't go to community centers or seek out mentors so much anymore. I would love to have a non-profit that helps students, specifically in high school. High school is a really critical time in your life; you learn a lot about yourself and you grow a lot. So I would like to operate something like a Boys & Girls Club that can help students get internships and mentoring."
But before she sets out to create the community support centers of the future, she's eager to complete her senior year and, assuming it's safe, get back to attending classes in person. After a year of remote learning during the pandemic, the idea of joining her fellow incoming college students in person is a welcome return to normalcy, especially during the many changes as she transitions from high school to college. When asked what she's most looking forward to as she sets off on her higher education journey, she's quick to answer. "I'm really excited to be in a completely new environment! High school can be very repetitive, so I'm really looking forward to learning new things, discovering new passions. Who knows, maybe when I get to college I'll decide to minor in something or join some clubs. I'm ready to branch out!"
Whenever people ask me what my dream career is, I don't ever have one specific job I want to do; I just want to be surrounded by people and help people in whatever way I can.