Abdi Yusuf
Francisco answered all my questions.
Thanks to him, I'm in college.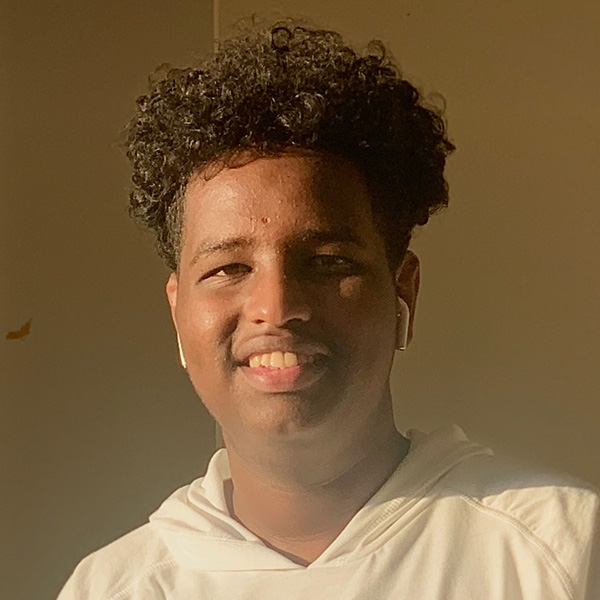 When Abdi Yusuf and his family arrived in the United States as refugees, he was thrust into a new culture and an unfamiliar educational system – seemingly a different world from the one he had been into. Originally from Capetown, South Africa, Yusuf and his family traveled to the US in 2016, leaving a city that was at the time struggling with crime, poverty, and devastating water shortages. Yet with the help of the Seattle Promise program and the support of his family and community, today he is a freshman at Seattle Central College, pursuing his AA degree and dreaming of a future where he can help others like himself.
His family first settled in San Antonio, Texas, where Yusuf was placed in the 9th grade based on his age, despite having a 3rd grade education from his time in Capetown. "It was really tough," he recalls, "We were total loners in San Antonio, we didn't know anybody there. And then I skipped from 3rd to 9th grade overnight. I struggled a lot because of that, and I didn't really get any help from the school. I told myself, 'I guess I'm on my own here.'"
After seven months in San Antonio his family decided to move to Washington to be closer to friends and relatives within the Seattle area's Somali community. After his initial struggles with school in Texas, he was grateful to find the support he needed at Roosevelt high school. "The Seattle school system is so great, they gave me everything I needed. I got assistance with school supplies and classes, the teachers were really helpful, it all just got a lot easier."
Yusuf would go on to complete his junior and senior years at Roosevelt, and by the time he was preparing to graduate from high school he was excelling in multiple areas of study, scoring high marks in Business and AP English, where he discovered a love of writing poetry and essays. With graduation looming and his college plans uncertain, he found himself consulting with the Seattle Promise outreach specialist at his school, Francisco Ramos.
A family member with a career in aid work had inspired in him a desire to major in social sciences, and with dreams of attending a four-year university, he knew he needed a plan. "Francisco gave me all the information I needed about Promise and Seattle Colleges, answered all my questions...I still email him pretty much every day. He did all that for me. Thanks to him, I'm in the program."
With the support from Francisco and the Seattle Promise, Yusuf was able to go straight from high school to college without taking on a significant debt to do so - a debt he worried would fall to his mother, who has consistently pushed him to continue his education. "She thinks so highly of me, and she expects such great things from me," he says with a smile, "If I hadn't had the Promise program...I would probably still go to college, and my mom would have had to help out with money. I think she would do anything to make sure I could go to college."
With his freshman year now underway, Yusuf plans to transfer to a state university once he completes his AA degree. Ultimately he hopes to return to South Africa - but this time as an aid worker, where he can help other refugee families like his own. "To me, with where we came from, America is like paradise to us. So I want to help people that are in the same position we were in to come over here and start a new life."