Current Campus Entry Procedures
Complete the Online Daily Wellness Screening Form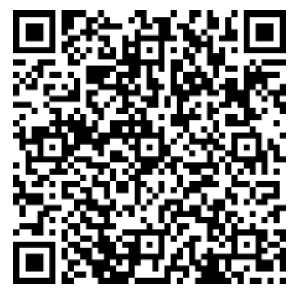 Each day (ideally before you come to campus) fill out the Daily Wellness Screening Form available at https://forms.office.com/r/7UvrsHYY02. A QR-code (see QR code image at right) to scan and access the Daily Wellness Screening is available at campus entrances. 
This form serves not only to educate and screen people who experience COVID-19-like symptoms, but also to collect important information necessary for contact tracers to effectively respond to an on-campus COVID-19 case report.
By providing your own personal phone number and contact information, the contact-tracers will be able to directly notify you if they find you might have been exposed. The collected data is available only to trained public health professionals. The information is held to ADA/FERPA confidentiality standards and will not be shared with any other parties. For more details see the section titled "what happens when H&S is notified of a COVID-19 case or illness," in the Infection Control Program.
Anyone who experiences COVID19-like symptoms should get tested for COVID-19 and should not come to campus until 10 days after symptoms first started (for more information see the section titled "isolation requirements" in the Infection Control Program).

If you still have fever after that, stay home until 24 hours have passed after the fever goes away.
If you wish to return earlier, because you think the symptoms are due to another cause (e.g. allergies or food poisoning) contact healthandsafety@seattlecolleges.edu to get a safe campus return date.
 

If someone has a potential-exposure to another person infected with COVID-19, they need to get tested no sooner than 3-5 days after the potential-exposure event. Report the situation to healthandsafety@seattlecolleges.edu. Do this regardless of your vaccination status. H&S will advise you on quarantine measures, if necessary.
 
Anyone who experiences COVID19-like symptoms or tests positive for COVID19 within 48 hours after being on-campus, should promptly notify campus contact tracers by calling 206.934.5522 (leave-a-message) or email healthandsafety@seattlecolleges.edu.
While on Campus
The following requirements are infection control measures implemented to protect against the spread of COVID-19.
Wear a Mask/Face Covering
In all indoor, public settings, wear a face covering that fully covers your mouth and nose. If possible, please bring your own. We have a limited supply on hand for those who do not have one. Guidance for Wearing Masks and Evidence for Their Effectiveness.
The only exceptions are if an individual is working alone (with no chance of human interaction); they must have a face covering on-hand to put on at any time another person may enter their space.
Exceptions DO NOT include:

Situations that would result in repeated putting‐on and taking‐off the face covering several times a day
Any situation that the individual's instructor, manager, the COVID-19 site supervisor, or Health & Safety personnel directs that a covering must be worn
Face shields without a face covering.(For communication with people speaking English as a second language or those who are hearing impaired and communicate via face and body language, contact healthandsafety@seattlecolleges.edu for planning and support.)
NOTE: There are no cases that an instructor or other college authority or representative is able to grant new exceptions or make a new rule for their own division. Please not the procedures for how to manage mask non-compliance, found in the Infection Control Program.
Observe Social/Physical Distancing
You are encouraged to continue to maintain at least 3-feet of physical distance where possible.
Additional Good Practices
Practice good respiratory etiquette by coughing or sneezing into the inside of your elbow – not your hands. Do not remove your mask to cough or sneeze. Immediately wash or sanitize your hands.

Wash your hands regularly with soap and fresh water for at least 20 seconds and avoid touching your face or mask. Wash or sanitize your hands after putting-on, taking-off, or adjusting the face covering. Wash your hands with soap and water after using the toilet and before eating, drinking, smoking, or vaping.

If you begin to feel ill while on-campus, notify healthandsafety@seattlecolleges.edu, and follow procedures detailed in the section, titled "when someone is sick on-campus" in the Infection Control Program.

Please take a few minutes to familiarize yourself with your position roles and responsibilities, as detailed in that section of the  Infection Control Program.
Additional Information
Vaccination Requirement
In the interests of everyone's health and safety, Seattle Colleges has chosen to be a fully vaccinated campus per Governor Inslee's higher education proclamation. This requires all students, staff, and faculty to be fully vaccinated for COVID-19. An individual is considered fully vaccinated two weeks after receiving the final dose of the vaccine. Exemptions to this requirement may be granted for medical or sincerely held religious reasons. For all the details, visit the COVID-19 Vaccination Requirement page.
Individuals at Increased Risk for Severe Illness from COVID-19
According to the Centers for Disease Control and Prevention (CDC), older adults and people with certain medical conditions are particularly susceptible to severe illness from COVID‐19. With respect to age, the CDC indicates that 8 of 10 deaths attributed to COVID‐19 are among those aged 65 and older. With respect to medical conditions, the CDC now divides people between those who are "at increased risk" and those who "might be at an increased risk." The categories are further detailed here.
Employees and students who are at increased risk for severe illness from COVID‐19 should continue to work either remotely or in areas that do not present them with direct public interaction (direct means within 6 feet of distance) to seek the accommodations process. 
Employees can contact hr.district@seattlecolleges.edu.
Students can contact:
Accommodating Absenteeism
Instructors and supervisors should plan to be flexible in accommodating for absenteeism.
Actively encourage sick students to stay home.
Do not require a healthcare provider's note for students who are sick with acute respiratory illness to validate their illness.
Maintain flexible policies that permit students to stay home to care for a sick family member.
If you have additional questions, students should ask their instructors and employees should ask their supervisors.
We appreciate everyone's patience and diligence in working to keep everyone safe.
Updates for specific campuses may be found by following the respective links: