Current Campus Entry Procedures
Please note: Seattle Colleges Health and Safety works during regular business hours, Monday-Friday, 8 a.m. to 5 p.m. If you are reporting a case over the weekend or at any time, complete the online form to report a positive (+) COVID -19 test or symptoms, and isolate/quarantine.
If You Are Coming to Campus, Complete the Online Daily Wellness Screening Form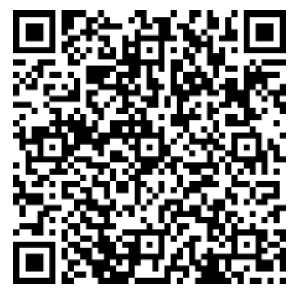 Each day (ideally before you come to campus) fill out the Daily Wellness Screening Form available at https://forms.office.com/r/7UvrsHYY02. A QR-code (see QR code image at right) to scan and access the Daily Wellness Screening is available at campus entrances. 
This form serves not only to educate and screen people who experience COVID-like symptoms, but also to collect important information necessary for contact tracers to effectively respond to an on-campus COVID-19 case report.
By providing your own personal phone number and contact information, the contact-tracers will be able to directly notify you if they find you might have been exposed. The collected data is available only to trained public health professionals. The information is held to ADA/FERPA confidentiality standards and will not be shared with any other parties. For more details see the section titled "what happens when H&S is notified of a COVID-19 case or illness," in the Infection Control Program.
If you have COVID-like symptoms, have tested positive for COVID-19, or have been exposed to someone with COVID-19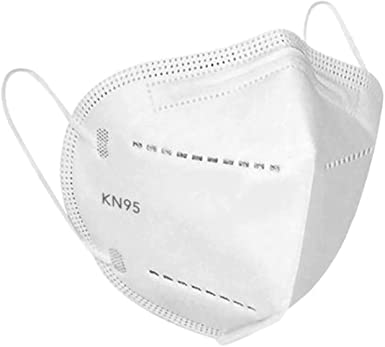 NOTE: The colleges and district have added KN95 masks to their supply of masks and will distribute them to support any necessary on-campus interactions during Spring Quarter. Each campus is informing students and employees about where to get one. 
Seattle Colleges follows COVID-19 guidelines established in the governor's higher education proclamation as well as the state's higher education guidelines and King County's Current COVID-19 guidance. Recently, Gov. Jay Inslee lifted the indoor mask mandate effective Saturday, March 12, 2022 for many businesses and organizations (schools, child-care facilities, grocery stores, bars, gyms, and others).
Beginning Spring Quarter (Monday, April 4) masks, for the most part, will be "optional but encouraged" at Seattle Colleges. This aligns with the state and local public health guidance. At this time, colleges are still required to follow the higher education proclamation and Department of Health guidance. If public health conditions change, community levels increase, or there are future surges or new variants, face covering requirements will be reassessed.

Masks will continue to be required in some instances. Refer to the Masks and Social Distancing page. For full details, refer to Spring 2022 Masking Standards.

All students, faculty, staff, and community members should continue to bring a mask when visiting any of our campuses or locations. Any areas requiring masks will be clearly marked with new signage, and masks will continue to be provided at centralized locations on each campus.

People in our Seattle Colleges community may need or choose to wear—or not wear—a mask for a wide range of reasons. Please respect those who continue to wear masks for their own health, safety, or comfort.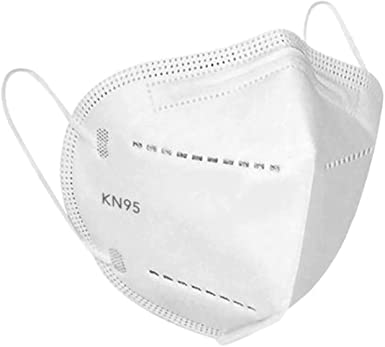 KN95 masks reduce the amount of dust or virus particles a person breathes in by a greater amount than general cloth masks. While many face masks help prevent the spread of the virus from the wearer to others, they provide limited protection to the wearer. A KN95 provides better protection for the wearer than other face masks, while also reducing the spread of the virus from the wearer.
How do I properly use my KN95?
If possible, wash or sanitize your hands immediately before and after putting your KN95 on and immediately before and after taking it off when planning to reuse it.
Place the mask over your face, with the bottom below your chin and the nosepiece up.
Place the straps of the mask over each of your ears.
Adjust the metal nose clip using fingers from both hands to mold the clip to the shape of your nose
Adjust fit as necessary to reduce air flow around the mask.
Certain types of facial hair, like beards, can make mask fitting difficult. Masks that fit well protect you better. To have a better fit, people with beards can shave their beards or trim their beards close to the face.
If you wear glasses and find fogging to be a nuisance, wash the lenses with soapy water and shake off the excess before putting on your mask (wipe off nose piece to minimize skin irritation).
How should I care for and store my KN95?
Please DO NOT attempt to wash your KN95. With proper care, your KN95 should be reusable for an extended period of time.
 
To keep your KN95 clean between uses, store your mask in a safe location that other people cannot access and where it will not get wet or be subject to direct sunlight or excessive heat. A dry paper bag works well for storing your KN95.
When should I discard my KN95?
You should replace your KN95 when it:
Becomes soiled
No longer covers the nose and mouth
Has stretched out or damaged ties or straps
Cannot stay on the face
Has holes or tears in the fabric
A KN95 may be disposed of in the normal trash.
How is a KN95 different from an N95?
The Occupational Safety and Health Administration (OSHA) does not consider a KN95 mask a negative-pressure respirator since it has not been certified by the National Institute for Occupational Safety and Health. Therefore, OSHA does not require a person be "fit tested" to wear a KN95. Since a person is not fit tested for a KN95, they should not use a KN95 in situations where a fit-tested N95 mask is required (for example, in clinical areas or for certain medical procedures).
Why use a KN95 instead of an N95?
The Centers for Disease Control and Prevention recommends that N95s be reserved for use by health care providers due to the COVID-19 pandemic.
What other actions should I take if I wear a KN95?
Even if you wear a KN95, you should still: 
Get the COVID-19 vaccine (and booster, if eligible) if you have not already done so. The vaccine is the best way to protect yourself and your family, friends, classmates, and co-workers from COVID-19.
Stay home if you are sick or have symptoms consistent with COVID-19, and contact healthandsafety@seattlecolleges.edu.
Practice physical distancing when feasible.
Wash your hands frequently for at least 20 seconds with soap and water.
Avoid touching your eyes, nose, and mouth.
Note: Information above about the KN95 mask is from the University of Maryland's Department of Environmental Safety.
You are encouraged to continue to maintain at least 3-feet of physical distance where possible.
Practice good respiratory etiquette by coughing or sneezing into the inside of your elbow – not your hands. Do not remove your mask to cough or sneeze. Immediately wash or sanitize your hands.

Wash your hands regularly with soap and fresh water for at least 20 seconds and avoid touching your face or mask. Wash or sanitize your hands after putting-on, taking-off, or adjusting the face covering. Wash your hands with soap and water after using the toilet and before eating, drinking, smoking, or vaping.

If you begin to feel ill while on-campus, notify healthandsafety@seattlecolleges.edu, and follow procedures detailed in When someone is sick on campus.

Please take a few minutes to familiarize yourself with your position roles and responsibilities, as detailed in Seattle Colleges' District health and safety policies and procedure #209.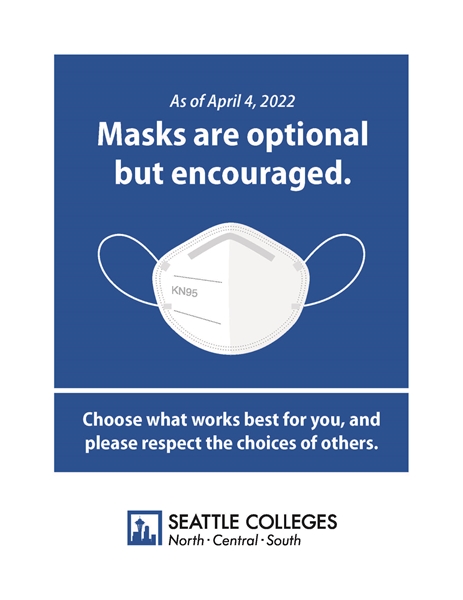 Additional Information
We appreciate your patience and diligence in working to keep everyone safe.
Updates for specific campuses may be found by following the respective links: